Incumbent plans to retire as filing opens for school board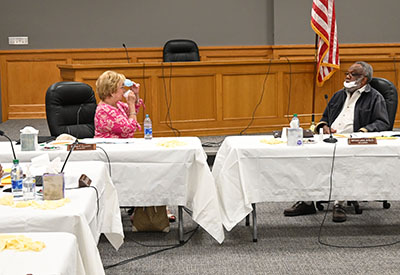 Sarah Elliott chats with Arthur Lance before the first in-person board meeting in May.
Two local seats on the Georgetown County School Board will be open in the November election. One has already attracted a candidate.
The District 6 seat on the board became vacant in May with the death of Richard Kerr, who was finishing his second term.
This week, Board Member Sarah Elliott, who has served four terms in District 1, said she will not seek re-election.
"I think it's time to move on," Elliott said. "I want to give someone else the chance."
Filing opens at noon Monday for five seats on the nine-member board. The board is nonpartisan.
Lynne Ford, a board member of the Waccamaw High parent-teacher organization, plans to run in District 6.
"Several people asked me," she said. Although she hadn't considered running, "it really started to make sense."
Ford graduated in the last class from Winyah High in Georgetown, worked in public relations and has volunteered with educational programs.
Her grandfather, the Rev. G.W. Bessellieu, was pastor of Mount Zion Missionary Baptist Church for 40 years. He started driving Black children to school during segregation when there was no public funding for transportation. He eventually bought a bus.
She and her husband, Johnny, pastor of the House of God Church, have two sons. (The oldest, Joshua, is an intern at the Coastal Observer.)
Lynne was a founding board member of Coastal Montessori Charter School, served on improvement councils at the Waccamaw schools and currently is a member of the WAVE board at Waccamaw High. She just completed a term on the board of Students in the Word, a Christian education program.
She is the communications manager at Holy Cross-Faith Memorial Episcopal Church.
This will be Ford's first run for public office.
"I'm excited," she said. "I feel like this is my way of giving back to the community."
The coronavirus pandemic has created an opportunity for change, she added. "Now is a great time to jump in."
Elliott said she had decided against another term before the pandemic. She got a call from a Waccamaw Intermediate parent earlier this year asking about her plans and about the duties of the school board.
"The hard thing for people to realize is that you are in charge of policy. You are not in day-to-day operations," Elliott said. "You have, supposedly, hired competent people to do those things."
She was first elected when all nine board members ran county-wide. There are now seven members from election districts that mirror those of County Council and two who are elected at-large.
"People are generally interested in the schools here. They want the best for our children," Elliott said of her constituents in District 1. "I just want somebody to represent us well."
Also up for re-election this year are Sandra Johnson in District 3 and Randy Walker in District 4. The District 5 seat, which was held by Elery Little, has been vacant since his death in March.
Filing takes place at the Office of Voter Registration and Elections. The books close at noon on Aug. 17.