Inlet-based nonprofit fills need for independent living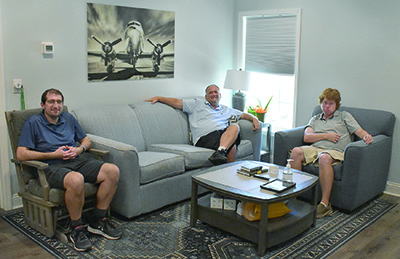 Justin Borrero, left, Mark Flannery and Lee Neatherly in the living room of their home at Oak Tree Farm.
Horry County is bursting at the seams with new homes, but only one neighborhood is geared toward people with disabilities.
Oak Tree Farm is currently home to five residents between the ages of 25 and 35, but within the next few years that number could be closer to 100.
The development, near Conway High School, is a project of SOS Care, a Murrells Inlet-based nonprofit serving children and adults with autism and intellectual disabilities.
"Most people with disabilities are living at home forever," SOS Care CEO Sarah Pope said. "There's no plan in our nation for what happens to people with disabilities. There's a plan for every other population that needs caregivers, like seniors."
The first five residents moved into the house in late-January. It's the first time any of the men have ever lived on their own.
"I like living independently and learning to live independently and the camaraderie that we have here," said Mark Flannery, a resident. "We get to hang out, we get to make meals together or we get to go to the park or the gym."
"I've never lived on my own, so being out here for the first time, living on
my own, being able to depend on the other guys and have them depend on me, and being able to hang out is great," said Justin Borrero, a resident. "We can watch TV or go out downtown or sometimes we hit the gym. We make meals here and basically just help support each other as we all try living on our own."
Each man has his own bedroom and bathroom in the "transition house," which also features a living room, kitchen and laundry facility.
"We wanted people to have the opportunity to try it because these are people that have never been away from their family," Pope said. "How do we know that they're going to be able to do it? How do we know their family is not going to crumble and they won't be able to do it either?"
"It's nice living on your own," said Cody Lewis, a resident. "Having all the friends and being on my own, I love it."
As more one-, two- and three-bedroom apartments are built, Borrero, Flannery, Lewis and the others will move and the next set of residents will occupy the transition house.
SOS Care staff members starting thinking about a neighborhood for people with disabilities in 2016. The first step was to talk to potential residents and their caregivers.
"Most of them had never really thought about it because it was never something that anyone really had a conversation about," Pope said.
The potential residents said the most important things were they wanted to be safe and they wanted to be together.
"They said 'we get nervous in the community because people are not always nice to us,'" Pope said. "Some of them have been bullied and taken advantage of."
The next step was to form a committee of staff members, people with disabilities, caregivers, a realtor and a developer to come up with a mission, a vision and a plan to make it happen.
SOS Care secured a grant and a loan to buy the 10-acre property in 2017 and started exploring funding options.
"The hardest part of all is not the dream, it's how do you pay for it?," Pope said.
Some of the money for the transition house came from the S.C. Housing Trust Fund and SOS Care raised the rest from donors.
Before the men moved in they took an eight-week training class about living on their own.
"We made sure they knew how to do a variety of things before they went there," Pope said.
At the beginning, Pope said it was amazing, exciting and nerve-wracking.
"They've done so well," Pope added. "They really didn't need us that much."
"I think it's made my life a lot better," said Lee Neatherly, a resident. "I've learned a lot of things and gained confidence in my ability to live on my own. I just think it's been a really good experience overall."
No one from SOS Care is on site, but staff members check in every day. The men also have a list of emergency numbers, which includes staff members and utility companies.
The guys are also solving some problems on their own, like how to hook up the ice maker in their refrigerator, and that a car accident nearby is what caused a recent power outage.
"They figure stuff out so I stopped trying to help them solve things," Pope said.
It was a difficult decision for Lewis' mother to allow him to move to Oak Tree Farm.
"For 34 years I've had to help him with every decision he's made. So now all of the sudden to let him go and make his own decisions was really tough," Vicki Lewis said. "You just hope and pray, just like with any child whether they're autistic or not, that you've instilled in them the right things to make the right decisions. I feel like we did because he's done so well."
The fact that Cody is only about 30 minutes away and comes home to stay with her every other weekend made the transition easier, Vicki Lewis said.
Cody and his roommates said leaving their parents was the hardest part of moving to Conway.
"I'm sure [my mom] misses me a little bit, but more than that she's excited that I'm able to move out," Borrero said. "A few years ago she wouldn't even think it would be a possibility for me. She knows I'm able to depend on these guys and we can … live independently. She's really proud that it's going so well."
Judy Gregory of Murrells Inlet has already reserved a spot for her son Kyle.
"It gives me finality," Gregory said. "He'll be able to live here for the rest of his life."
Kyle, 34, is deaf, but graduated from a regular high school. He had a job and was living independently until two years ago when he contracted encephalitis.
"It settled right over his cognitive and memory area," Gregory said. "If he gets off of our street now he can't find his way home."
Kyle has already met his future roommate. Gregory said both of them are too high functioning for a group home, but not high functioning enough to live independently.
"They're so excited that now they get together and fix dinner and talk about what's going to go on at Oak Tree," Gregory said. "I've never seen two men so excited."
SOS Care kicked off a capital campaign with a goal of raising $1 million for the neighborhood. Future plans include a health and wellness center with classrooms, a common area for residents to gather in large groups and a full schedule of on-site activities.
When the number of residents increases, SOS Care staff members will likely be on-site round the clock.
"That's going to look a little different, Pope said. "Are we going to have some different issues with that many people there? Yes, we probably will."
There are currently 300 people on a waiting list to live at Oak Tree Farm. About 20 percent are Georgetown County residents.
"When you look at the need you know it's there," said Kathi Grace, the nonprofit's director of marketing and events. "I've tried to make it my mission to tell everybody in Georgetown County that we exist."
For more information go to soscaresc.org.