Judge dismisses whistleblower complaint against police chief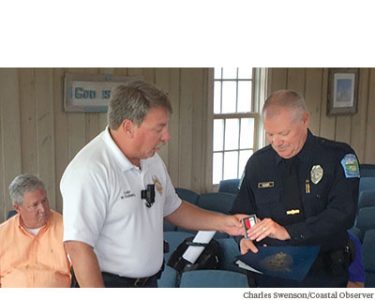 Chief Michael Fanning presents Officer Charles Houser with a medal for his 2018 rescue of a swimmer on his first day at work.
A Circuit Court judge has dismissed a whistleblower complaint filed last month by a former part-time Pawleys Island Police officer.
Judge Ben Culbertson ruled this week that because Charles Houser Jr. was a seasonal employee "there's nothing that says they have to hold the job open for you."
Houser, who represented himself in the suit, said he was told in September 2018 that he would no longer be needed, but that he had a training session at the S.C. Criminal Justice Academy scheduled for October so he could maintain his status as a Class 3 officer. That allowed him to work under the supervision of a full-time officer.
Houser said he filed for unemployment, then got a call from Chief Mike Fanning to say that he would not be rehired in 2019 and his class was canceled. He requested clarification from Administrator Ryan Fabbri and Mayor Jimmy Braswell, but got no response. They were not named in the suit. Neither was the town itself.
Houser claimed in his suit against Fanning that he was fired because he had complained that Officer Brian Folmer "verbally abused" him in public, waving his arms, yelling and using profanity three days before he was told his season was over.
Houser also said his firing was tied to an incident this September at the Beaver Bar where he claims Fanning exposed himself. Houser told the court at a hearing this week that he didn't witness the episode, but his son and other people did.
Houser was at the bar in Murrells Inlet for a fundraiser hosted by a law enforcement motorcycle group. Fanning was also there with the Coastal Carolina Shields, a pipe and drum band that was performing. "The chief lifted up his kilt and exposed his genitals," Houser told the court.
That incident was reported to the Georgetown County Sheriff's Office and turned over to the State Law Enforcement Division for investigation. It is still pending.
Houser also said that Fanning and Folmer were with a group that harassed at the bar on another occasion.
Town Attorney David DuRant asked the court to dismiss the whistleblower complaint because the statute Houser cited only applies to occupational health and safety issues.
If that was the case, Houser said in a pre-trial motion, he asked the court to allow him to get legal advice and file a new complaint.
DuRant told the court that the suit and its reference to the incident at the Beaver Bar was just an attempt by Houser to ruin Fanning's reputation.
"All of these allegations are just what they are – allegations," DuRant said. "We vehemently deny these allegations."
Culbertson didn't address the incident at the bar or Houser's claim to be a whistleblower. "By your own admitted facts you were a part-time employee" who worked from May to September as scheduled, the judge said, adding that the town had no obligation to rehire him.