Julie Humowitz named district's Teacher of the Year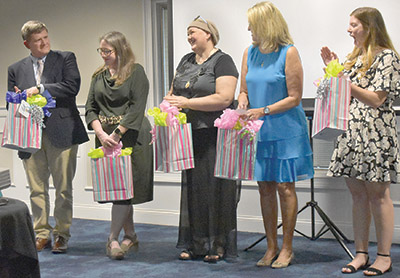 Julie Humowitz, second from left, learns she is the district's top teacher.
Moments after being named Georgetown County's new Teacher of the Year, Julieanne Humowitz got a hug from Ben Tester, who received the honor last year.
Humowitz taught Tester when he was a student at Waccamaw High School. She's taught a lot of students during her 29-year career.
"I'm humbled, I'm excited, I'm flattered," she said. "I've been here my entire career. I said when they interviewed me, 'I would like to work here my entire career' and that's what I've done. So to finally be able to serve the county in this way, I feel very honored."
Humowitz's best advice to new teachers is to not take things too seriously.
"You're going in there every day, doing the best that you can and the kids are doing the best that they can too," she said. "You are a team. It's not one against the other. You have to build that relationship. You've got to be a part of the team."
Principal Adam George called Humowitz, who was also a finalist for Teacher of the Year for the 2004-05 school year, the "backbone" of Waccamaw High.
"She's truly a Warrior, through and through," George said. "She has been at the school and she loves the school and believes in the school. She has passion for what she does and for being a fantastic educator. Being there every day and being present for our kids every day is just tremendous."
Humowitz said she loves her students, and they keep her honest.
"They tell you what they're thinking and it makes you really think about things differently," she said. "The kids will tell it like it is and you've got to sit back and you've got to reflect."
Young teachers can learn from Humowitz's passion, how prepared she always is, and how involved she is in the school, George said.
"She's involved in every aspect of the school," he added. "She's our Student Council sponsor. She's our social studies department chair. She is always supporting the kids, and when you ask her, that's the best part of her job."
Humowitz said veteran teachers need to mentor rookie teachers and share what struggles they've had.
"It's not going to be perfect every day, but this is a wonderful career. It's never boring and it always has new challenges," she added. "The beauty in our career is that we can continue to grow and still thrive and prosper."
Each school in the district, along with the Howard Adult Center, names a Teacher of the Year, and then a committee chooses five finalists.
This year's other finalists were:
• Trisha Gaskill, Coastal Montessori Charter School;
• Becca-Lynn McRobbie Bishop, Waccamaw Middle School;
• Penny Gamble, Andrews Elementary School;
• and William Cox, Georgetown High School.
The other nominees from the Waccamaw schools were Stephanie Johnson from the elementary school and Jennifer Christian from the intermediate school.
It's the third straight year that a Waccamaw Neck teacher received the district's top honor.
Before Tester, Maricel Gonzalez of Waccamaw High won for the 2021-22 school year.