July 4th parades anticipate record turnout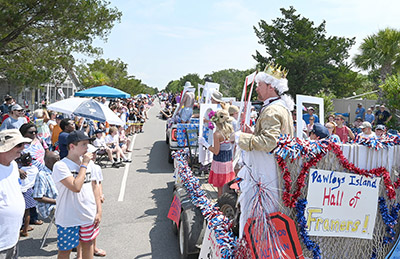 The Pawleys parade is known for its imaginative floats.
When Fran Ward rode in the Pawleys Island Fourth of July Parade a decade ago, she was beside her late husband, Howard, who was the grand marshal.
"I remember it well," she said. "He was very honored."
This year, it is her turn.
Ward will lead what should be the 55th annual parade. The event was canceled last year because of the coronavirus pandemic, but Mayor Brian Henry organized a July 3 drive around the island for the grand marshal, Johnny Dieter, a World War II Navy veteran and island resident.
If last year's parade will go down in the books with an asterisk, Henry said this year's event may be one for the record books when it comes to participation.
"It's been two years. It's such an important part of the culture," he said. "I think it's going to be as many as we've ever had."
That view is shared by the organizers of the Fourth of July parades in North Litchfield and Murrells Inlet. Both took a year off in 2020.
"There's a lot of excitement about the parade," said Lee Hewitt, who co-chairs the parade committee.
The parade usually has about 120 boats, but only about 30 register, which makes them eligible for a trophy. This year, there is no registration and no trophies.
"When we made the decision, there were still questions about who would be open to take registration," Hewitt said.
But he is using T-shirt sales as a barometer of interest. The shirts with the parade's logo and theme – "Stars, Stripes and Fireworks" – went on sale last month as a benefit for Boy Scout Troop 396 at Belin Memorial United Methodist Church.
"T-shirt sales are well ahead of where they were in the past," Hewitt said.
By that measure, Pawleys Island is also doing well, with more than 2,500 Fourth of July T-shirts sold in the last two weeks.
"I think everybody's excited about it," Henry said, who is in his first term as mayor. "I'm excited about it. It's a rite of passage."
He plans to ride with Ward. "She's a really sweet person. She's been supportive of me and the town."
Ward said she was surprised as well as honored to be picked. "Howard deserved the honor more than me," she said. But she added, "if it's about love for Pawleys Island, that's me."
The North Litchfield parade doesn't have a grand marshal, but it did have a hostess: Kitty Clay.
When she died in February, there were questions about its future.
"Her family wanted it to continue," said Vernon Craft, the Clays' neighbor and Kitty's unofficial participant counter.
The parade will start in front of the Clay house, where watermelon and lemonade will be served, just like it has for the 30 years Kitty was in charge.
The parade has no T-shirts and no registration, and just one rule: no internal combustion engines.
Craft said the participants, mostly on golf carts, usually number just under 200. But it keeps growing.
Some people call it a golf cart parade.
"Kitty always called it the children's parade, and it truly is," Craft said.
If you go
Pawleys Island: Parade starts at 10 a.m. from the South Causeway. Floats line up at 9:30 a.m. The cost to register is $20 in advance at Town Hall and $30 on July 4. Prizes are awarded to the best floats, decorated houses and docks.
North Litchfield: Parade starts at 10 a.m. from 135 Hanover Dr. Line up at 9:30 a.m.
Murrells Inlet: Parade starts at 3 p.m. from Garden City Point. ETA at the creekfront is around 4 p.m.