Juneteenth events start a new tradition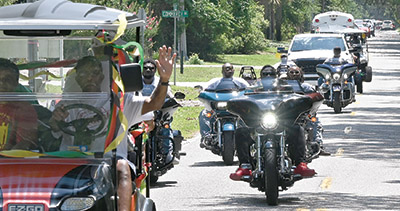 The first Pawleys Island Juneteenth parade sets out on Petigru Drive.
Ronald Coleman wasn't aware of Juneteenth. For 91 years, his summer activities included the Fourth of July, picnics and trips to the beach.
"I never thought of June and the abolishment of slavery [together], but now there's another thing," said Coleman. "It was very interesting."
He was among those celebrating at a series of events organized by the Pawleys Island Civic Club over the weekend. It was the area's first organized Juneteenth observance and coincided with Georgetown County's adoption of Juneteenth as an official holiday.
A parade through the Parkersville community on Saturday drew about 20 entries, including civic groups, churches, Sheriff Carter Weaver and Midway Fire and Rescue. It ended at the Waccamaw Regional Recreation Center with food and barbecue.
Patricia Rutledge, a Pawleys Island native, said she thinks the holiday should be taught in the schools..
"Future generations will know more than we grew up knowing," said Rutledge. "It needs to be implemented in schools."
Vincent Davis, president of the civic club, said one of the main reasons the holiday is now being celebrated at Pawleys Island is a concern that young people aren't learning about their heritage. The group wanted to step in before it was too late.
Juneteenth commemorates the end of slavery in the United States with the announcement on June 19, 1865 in Galveston, Texas, of the Emancipation Proclamation, which had been signed two years earlier.
The civic club began its observance with a talk by Zenobia Harper, a local historian, on the significance of the holiday. Those who attended said they were glad the holiday was finally being celebrated.
"I think it's about time," said Wilhelmena Washington. "We need to learn more about our history because it's out there. I really appreciated coming out to listen to the Juneteenth education."
Davis said the weekend was an opportunity to bring together organizations and different demographics in the area.
"Every detail has been strategized to bring together as many people as possible," Davis said. "We are building up awareness. My vision is to bring multiple organizations, different demographics together as one."
Davis said he was humbled by this weekend's turnout and that the civic club is ready for next year, with two businesses already planning to sponsor the events. He said the club's vision of a community working together was on display this weekend.