Last-minute effort tries to keep bike route funds in county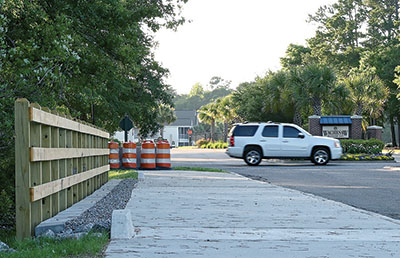 The first phase of I2I was completed last year to Old Kings Highway.
Sponsors of a bike path in Murrells Inlet have less than two months to try to keep a federal grant in Georgetown County. The money was set to be transferred to a project in Horry County until state Sen. Stephen Goldfinch raised concerns.
The $628,000 in federal funds for transportation alternatives was allocated to the city of Georgetown in 2014 for the expansion of the East Coast Greenway. The project was approved by the Grand Strand Area Transportation Study, a regional body that reviews transportation funding. The city was required to provide a 20 percent match.
Members of the GSATS policy committee were asked last week to approve the transfer of the money to a project in North Myrtle Beach.
Goldfinch, who chairs the committee, asked GSATS staff to come up with an alternative.
"That's a big deal to me to lose a project in Georgetown County," he said. "I prefer to keep that money where it started."
He would like to see it spent on the Inlet to Intracoastal bike route sponsored by Murrells Inlet 2020.
The Georgetown project fell victim to delays and turnover in city government, Mark Hoeweler, executive director of GSATS, said.
"Every time somebody new comes on board, whether that's in administration or a city engineer, they don't know about the project," he said. "We've got to bring them up to speed and they've got to decide what choices they want to make. It's just been one of those things that we could never get it nailed down."
Other jurisdictions were asked last year if they had a project that could replace the one in Georgetown so the funding wouldn't be lost, Hoeweler said. The money was part of a federal transportation bill and has to allocated by the end of the federal fiscal year on Sept. 30.
"That's what North Myrtle and Horry County did," he said. "They were totally coming in to save the day at the last minute. I've asked them to be patient while we try to work this out."
Boyd Johnson, the Georgetown County planning director, serves on the GSATS study team. He said he didn't learn that the money was available until earlier this summer. "We were scrambling around before the study team meeting looking for a true shovel-ready project," he said.
Last month, County Council approved spending capital improvement funds earmarked for bike paths to design two additions to the Bike the Neck route and develop a plan for paths in the western part of the county.
"We very much, in-house, talked about Waverly Road and Martin Luther King Road," Johnson said, referring to the Bike the Neck route. "They certainly weren't shovel-ready."
By spending money on the design work, the county didn't have money to match the federal funds.
North Myrtle and Horry County have more than the 20 percent match, Hoeweler told the GSATS policy committee.
Goldfinch asked why that money couldn't be used for the extension of the Inlet to Intracoastal path in Murrells Inlet, which he said was shovel-ready.
"What happened here?" he said. "I don't understand."
That project, known as I2I, completed its first phase last September. Linda Lane, a Murrells Inlet 2020 board member, said the nonprofit has the GSATS application for the $628,000. Now, they have to educate themselves on the protocols that need to be followed to get the funding.
"I think that everybody is now fully aware of how shovel-ready we are on this phase two and how much work has gone into us getting to this point," she said. "We are very close to having all of our permits. We're shovel-ready in the sense that it's been engineered and all the permits have been applied for."
Murrells Inlet 2020 needs permits from the state Department of Transportation and state Department of Health and Environmental Controls to move forward.
"Usually in these situations, people who think they're ready to go aren't," Hoeweler said. "There's a lot more to it than they know until they get involved. We're trying to see where we are in that process."
The first phase of I2I runs from Business 17 along Macklen Avenue to the Tidelands Health medical complex, then crosses Bypass 17 to Old Kings Highway. The 3-mile second phase will extend the path to Wachesaw Road and from there to the Intracoastal Waterway.
"It would really add connectivity in the core of Murrells Inlet not only for recreation and health, but for pure safety, both pedestrian and bike safety," Lane said. "We need these in our community. We need to look at these differently in Georgetown County and look through some fresh lenses."
A decision will have to come quickly since the money has to be reassigned by Sept. 30 or it is no longer available.
Before that, the GSATS policy committee has to accept a project and then the DOT would need to have a 30-day comment period.
If I2I doesn't get approved for the funding, Lane said Murrells Inlet 2020 will continue raising money and looking for funding sources.
"If another community, whether it be in Horry County or Georgetown County, is getting something better for their community, that's great," Lane said. "If this is a missed opportunity for us, at least our project has definitely gotten on the radar. I don't like to take a back seat, but maybe we would be at the top of the list for the next time something like this comes up."