Last of the original Warriors leaves the classroom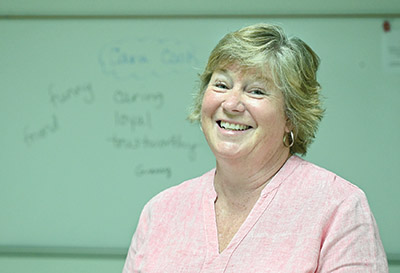 Friends left messages on Cara Cook's board on her last day at WHS.
Thirty-two years after joining the staff of Waccamaw High School, Cara Cook walked out of the school for the last time on Friday.
"This place has given me a lot. It's been family. It's raised my children with me," Cook said. "It's gotten me through several of the worst years of my life. It has given me lifelong friends that I will have forever and I will cherish forever."
Cook was the last of the nearly 50 original staff members still working at Waccamaw High. Although she technically retired a few years ago, she continued as an "at-will" employee.
"I had decided it was just time, but it wasn't until halfway through this school year that I felt solid about my decision," Cook said. "I feel like I've done what I need to do. I feel like I've left with amazing memories."
In August 1990, Waccamaw was Georgetown County's newest high school. Before that, students on Waccamaw Neck attended Georgetown High.
"Fifty people on faculty, and we were thick as thieves and close as can be," Cook said. "It was a huge family then and I think that just instilled a commitment to Waccamaw."
Along with teaching special education, for which she was named the school's teacher of the year in 2017-18, Cook helped with student council, prom committee and Key Club, and, at various times, coached junior varsity and varsity softball, boys cross country and junior varsity girls basketball.
"You pitched in. You just did it," Cook said. "You took tickets, you coached cross country, you coached basketball, you coached softball. That's what you did and you were happy to do it."
Cook moved to Pawleys Island from Ohio in 1987 when a friend's sister got a job with the school district.
Although she was looking to teach physical education, for
See "WHS," Page 3
From Front Page
which she had a degree, Cook was hired to teach seventh- and eighth-grade special education students at the Waccamaw School, which had kindergarten through eighth grade.
When the high school was getting ready to open with students in grades seven through 11, Cook transferred to continue to work with the middle schoolers. She stayed on when Waccamaw Middle was built, and for the last 10 years, she's been teaching seniors. Cook's classes were for students who had been diagnosed with learning disabilities.
Cook said in her more than three decades of experience, dealing with the kids and helping them learn didn't change.
"It's who is in your room and why. That's what's changed," she added. "Inevitably, you just do what you have to do with whoever walks in. However they get there; whenever they get there. You address that person as they come."
One major change since 1990, Cook said, is the amount of parental involvement.
"I go back to the original parenting concept where parents were super involved and they were parents, not friends. I think that's where we see a change in what's going on. Not just here, but anywhere," she said. "There was a time you could come to a sports game and you knew every parent. Now parents drop kids off and they're not as actively involved."
Cook also believes today's moms and dads don't parent as hard as they should.
"I think that's a basic foundation for a lot of concerns for people. The awareness of what your children are doing, where your children are going, who they're hanging out with, who they're on social media with," Cook said. "I think stronger parenting could produce better community situations. It's not the solution, but I don't know what the solution is."
Cook can see that fewer high school students are choosing teaching as a career. She expects that trend will continue.
"There's a lot of blame on COVID, but I don't know if that's to blame," she said. "I think it's just the climate in general."
Cook blames things like tests teachers have to take on things that have nothing to do with the classroom; teachers missing school time for orientation and other meetings, including with curriculum coaches; and a "pacing" guide teachers have to follow that sometimes doesn't leave time for interaction with students lest the class falls behind.
"Why in a shortage of good, strong, solid people are we making it more difficult for people to become educators?" she said. "I think that's an issue. You see the strong level of commitment with teachers who have been around and know that work ethic. But I think the younger generation of teachers is bogged down. I don't necessarily believe it's grooming better educators than back when I started."
Cook said her final year went by in a flash. She is looking forward to spending more time with her three daughters, two sons-in-law and new granddaughter.
But, she will miss the students and the staff and the relationships she has built.
"It's been a great journey," she said. "It's not even a chapter. It's been a volume of life for me."