Launch of boys volleyball draws former principal back to courts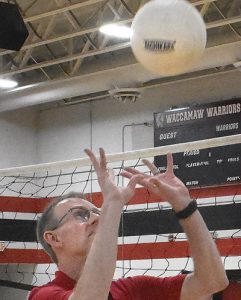 David Hammel coached basketball and track before becoming principal at WHS.
Former Waccamaw High School principal David Hammel returned to teaching last August. Now he's returning to something that he loves just as much: coaching.
Hammel was named the school's first boys volleyball coach this week.
"Coaching has sort of been in my blood. I've coached basketball. I've coached track," Hammel said. "I like to have the ability to build those relationships with a student-athlete on a completely different level, the ability to mentor them, to motivate them and this is a new avenue for me to do it."
Boys volleyball started as a club sport in South Carolina schools last year. This year, it was fully sanctioned by the S.C. High School League as a fall sport. There were no postseason tournaments because not enough schools participated.
There are 41 varsity teams across the state. Local schools competing include Lowcountry Prep, St. James, Socastee, Myrtle Beach and Carolina Forest.
Hammel played tennis and basketball while in high school in West Virginia. Volleyball was not a sanctioned sport, although he's occasionally played it for fun.
"I'm going to spend this spring learning all the drills and learning the skills," Hammel said. "I think you can learn the skills and techniques, it's really about the relationships you build and your ability to mentor and motivate and get kids out and get them interested."
Hammel is no stranger to starting sports programs. He was the first athletic director at Carvers Bay High School when it opened in 2000.
"Starting something from scratch is exciting," Hammel said. "We built everything from scratch and this was a flashback."
Hammel has worked for the Georgetown County School District for 24 years. He started his career teaching at Waccamaw High in 1994. Since then he's also been a coach, athletic director, curriculum specialist and assistant principal. He was the state track and cross country coaches association Class AA coach of the year in 2002 and the S.C. Athletic Administrators Association principal of the year in 2011.
Hammel was principal of Waccamaw High for 10 years and then worked at the district office for four years. He was executive director of secondary schools and athletics for the district before stepping down to teach science at Georgetown High School at the beginning of the school year.
Hammel spent part of Tuesday walking around Waccamaw High recruiting players. Nearly two dozen students showed up for his first team meeting where he talked about his expectations and what it will be like to build traditions and the team culture.
He's not sure how many will be back when he starts spring practice in May, or for summer workouts.
"It's new and it's fresh, but these guys get to buy in," Hammel said. "One of the biggest challenges is, are these young men willing to step out of their comfort zone and say 'I'm willing to try something new.' "
Hammel knows that there will be some athletes who don't want to go through the struggles of a first season of a new sport. But he's also counting on the ones who, for the rest of their lives, will cherish the memory of being on the first Waccamaw High boys volleyball team.
"For these guys who are willing to try it out, years from now when this school is playing for state titles, they can say 'I was the first. I was the one who started it,'" Hammel said.
Hammel is already working on a schedule. He's looking for Grand Strand opponents along with teams to play in the Charleston area.
Girls volleyball matches are Tuesdays and Thursdays. Hammel said last fall the Grand Strand boys teams played on Mondays and Wednesdays.