Lawmakers and board still at odds over fire tax increase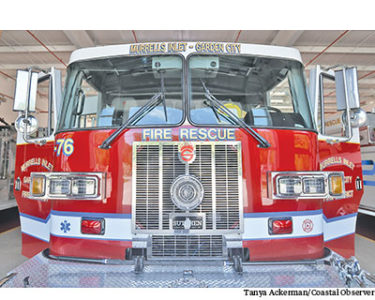 Two fire stations will serve as polling places in Tuesday's referendum on raising the fire district's tax rate.
Voters in Murrells Inlet and Garden City will go to the polls Tuesday to decide whether they and their neighbors should pay more for fire and EMS services.
The Murrells Inlet-Garden City Fire District wants to increase its property tax rate from 14 to 19 mills starting this year. A mill is equal to $1 of tax on every $1,000 of assessed value. The district stretches from just north of Brookgreen Garden across the county line to the border with Surfside Beach and from the Waccamaw River to the Atlantic Ocean. Most of its coverage area is in Horry County.
"It's vital for us to keep up with the increased request for service," said George Oldroyd, chairman of the fire district board. "Either we keep up, or go backwards."
Voters last approved a millage increase from 10 to 14 mills in March 2015. That money was used to build a fourth fire station on McDowell Shortcut in Murrells Inlet near the county line.
The Murrells Inlet-Garden City Fire District is a special service district that was created by the legislature in 1966. Emergency medical service was added in 2008. The district's tax rate was capped by the legislature, but voters can raise it through a referendum.
The fire district needs the money to provide a fourth ambulance and more paramedics, partially due to increasing amount of citizens 62 and older that live within the district, according to the ballot question.
"We've had a significant increase in development which results in a significant increase in calls," Oldroyd said. "The new taxes brought in by new development do not keep up with our costs."
The district also transports the second highest number of trauma patients to Grand Strand Regional Medical Center of all first responders in the area, which adds to the time crews are out on a call.
Aging equipment and apparatus also need to be replaced. "We can't fall behind in that," Oldroyd said.
The district's goal is to maintain, or lower, its rating of 2 from the Insurance Services Organization. ISO ratings affect what owners of homes and businesses pay for insurance.
In the first four months of 2019, the fire district responded to 1,985 calls. Of those calls, 1,401 were for EMS and 584 were for fire.
A referendum was originally scheduled for July 2018 but was delayed because the district had not had financial audits completed in several years. Audits for 2014 through 2017 have now been completed.
"Our auditors are satisfied that all is well," Oldroyd said. "There's no irregularities that have been uncovered in the last four years of audits."
Local legislators, who appoint the fire district board, wanted the referendum delayed again until this fall, but were told the fire district wanted the millage increase reflected in this year's tax bills.
"Our concerns, they still have not addressed," said state Rep. Lee Hewitt. "We owe it to the tax payers to have all the information in to make an educated decision."
Oldroyd said the 2018 audit is due within days, but not in time for the board to review it before the referendum. However, the auditors have given the board no indications that there are any problems.
State Sen. Stephen Goldfinch said the legislative delegation fully supports firefighters and EMTs, but the fire district board has not addressed concerns that he, Hewitt and state Rep. Russell Fry of Horry County have raised about the audits and finances.
"They've done nothing that we've asked them to do. They haven't provided us with any rationale other than talking points," Goldfinch said. "If it's justifiable, they haven't explained it very well. They could alleviate all these problems, they just choose not too."
Hewitt and Goldfinch are also concerned about a second tax increase in less than five years.
"If you add it up, it's a lot of money," Goldfinch said.
'We're concerned with any millage increase and we take it seriously," Oldroyd said. "But we cannot defer life safety issues."
The school district has already approved a millage increase this week, and the county is facing a budget deficit that could lead to a millage increase.
"We could be facing a pretty big tax increase," Hewitt said. "We need to be careful."
"When you add [them all] up it's going to be over $100," Goldfinch said. "I think it's going to be a lot, and think it's going to be a lot at a bad time."
"We are not unaware of what goes on around us," Oldroyd said. "However we can not take those issues into account when making decisions about fire and life safety issues."
Polls will be open Tuesday from 7 a.m. to 7 p.m. The polling places in Georgetown County are: Murrells Inlet 1, fire department headquarters on Business 17; Murrells Inlet 2, New Greater Gordon AME Church on Old River Road; Murrells Inlet 3, the fire station on New River Road; and Murrells Inlet 4, the Murrells Inlet Community Center.
To find your polling place visit scvotes.org.
"This decision is in the hands of the voters. It's that simple. They can make a difference," Oldroyd said. "How long do they want to wait on an ambulance? The voters are going to decide on Tuesday."