Lawmakers differ over best plan to restore flounder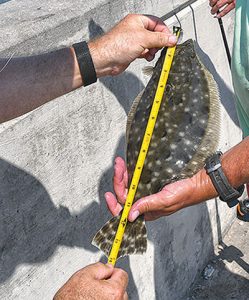 The new law raises the catch size from 15 to 16 inches.
Two local lawmakers are taking different approaches, but they share the common goal of restoring the state's troubled flounder fishery. And they have both rejected a call by the state wildlife agency to impose a season on the popular species.
A bill by state Rep. Lee Hewitt that would reduce the catch limit from 10 to five flounder and increase the size limit from 15 to 16 inches was approved by a House subcommittee this week. The bill now moves to the Agriculture, Natural Resources and Environmental Affairs committee.
The bill also allows anglers to keep only one flounder larger than 20 inches. A female that size can lay a million eggs.
"That would help the fishery come back quicker," Hewitt said. "I'm trying to get more eggs in the system."
State Sen. Stephen Goldfinch plans to take a different approach in a bill he intends to file.
"My bill is going to end up increasing the cost of a fishing stamp by a few bucks," he said. The money, which he estimated at $1.2 million annually, will be used to create a flounder fish hatchery.
Texas and Alabama have successful hatcheries, but only spend half that amount, Goldfinch said.
The legislature last changed the flounder regulations in 2017, dropping the catch limit from 20 to 10 fish and raising the catch size from 14 to 15 inches.
"They said that would improve recruitment by 30 percent," Goldfinch said.
Instead, a recent report showed that flounder stocks are at historic lows. It was developed by North Carolina, South Carolina, Georgia and Florida.
"It's a regional fishery, you need a regional solution," Phil Maier, deputy director for marine resources at the state Department of Natural Resources, told House members. "North Carolina took the lead in that."
North Carolina accounts for 57 percent of the flounder caught. South Carolina accounts for 10 percent.
North Carolina closed its recreational flounder fishery and reduced its commercial fishery. There is no commercial flounder fishery in South Carolina.
DNR wanted to create a flounder season from June to November, Hewitt said.
"In Murrells Inlet, that is the only fishery we have in the spring," he said. "That is something I could not live with."
Hewitt also rejected a call from DNR for a two-flounder catch limit.
"That would punish the recreational fisherman," he said.
Goldfinch also opposes a flounder season and the two-fish limit. He said the 16-inch size limit is still an option.
But he said the future of the fishery lies in North Carolina.
"For some reason, South Carolina's leading the charge to save flounder," despite only having 10 percent of the catch, Goldfinch said. "North Carolina's really the culprit here. They've had a commercial flounder fishery for 100 years."
Maier told the House wildlife subcommittee that North Carolina is reducing its flounder take by 72 percent. Although the fish are caught inshore, they spawn offshore and eventually migrate southward, he said.
But Rep. Bill Hixon, who chairs the subcommittee, was troubled that the recreational closure in North Carolina is impacting South Carolina. "We know there's people coming from North Carolina to catch our flounder and gig our flounder in abundance," he said.
Hewitt agreed, but said the recreational fishery has too large an economic impact on places like Murrells Inlet to impose a closed season.
"You can image how mad our constituents are going to be," Goldfinch said. "I'm not going to do what DNR wants to do. It doesn't make sense."
DNR is also cool to the idea of a flounder hatchery, Hewitt said. The agency said it's labor intensive, and he is inclined to follow its advice.
But Hewitt said he doesn't care whether it's his bill or one filed by Goldfinch that passes, as long as a change in the law is enacted this year.
"If we don't take some drastic steps, the fishery could ultimately be lost," he said.