Lights remember a year that some prefer to forget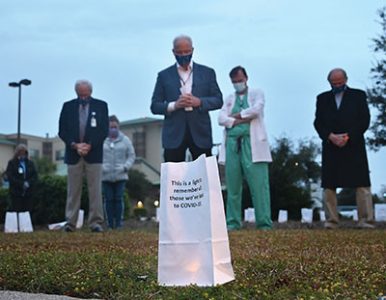 Ed Norris, left, Bruce Bailey, Dr. Bill Richmond and Booty Shelley join in a moment of silence during an observance of the anniversary of the first COVID-19 diagnosis at Waccamaw Community Hospital.
A year after the first patient in Georgetown County was diagnosed with COVID-19, staff at the area's hospitals say it is important to remember the gains as well as the losses from the pandemic.
"There's not a day goes by that I'm in the office right now that I hear a patient say to me, 'I just want to forget 2020,'" said Dr. Mitch Devlin, a cardiologist and chief quality officer for Tidelands Health, at a small ceremony outside Waccamaw Community Hospital to mark the anniversary.
It was one of four observances at Tidelands facilities from Georgetown to Little River. There were 771 luminaries set up outside the hospital, one for each death related to the coronavirus in the three-county region.
"There is, as we can see by all these luminaries around us, lots and lots of reasons why we shouldn't forget 2020," Devlin said.
But what he also wants to remember is how people rallied to combat the virus.
"There've been heroes throughout the process. Not just health care workers, but families, the patients themselves," Devlin said.
Those in the medical profession came together from across a range of disciplines and different levels of skill.
Devlin said he watched them "come together to help take care of patients who were incredibly ill at times where, in the beginning, all we had to really deal with all this was a lot of fear because nobody really understood it."
But, he said, "everybody put their fear aside, and in putting their fear aside we actually came together and became stronger."
Bruce Bailey, the CEO of Tidelands Health, said it has dealt with a variety of disasters, from hurricanes to malware, and proven resilient. But the novel coronavirus was a different challenge.
"I was on vacation in Colorado and people started calling me from Tidelands Health going, 'We've got to talk about COVID,' and I'm going, 'What's that?" Bailey recalled. "Well, a year later, we now know."
He said it was a year that people won't be able to forget, but added that it's one that health care workers should not try to forget.
"Don't ever forget 2020. A lot of lives were lost. A lot of families were impacted. It was hard," Bailey said. "Don't forget it. Remember the lives lost. Remember the lives that you saved and remember all the good things you did."
Ed Norris, who chairs the Tidelands Health board, said that until a year ago he routinely walked the halls of the hospital talking with staff. He hopes those days will return.
"When I look at these luminaries, I remember those who were lost, but I also see hope," said Norris, who counts two close friends among the victims of the pandemic. "Every dose of vaccine, and we've delivered 26,000 so far, it brings optimism."
In the struggles of the last year, Devlin saw reason to be optimistic.
"It just seems to me that I've watched within this organization the perfection of what the health care system really can be," he said. "It just really strikes me that in addition to remembering those that we've lost, remembering some of those things that we have actually gained."
"We shouldn't ever try and let that go," he said.