Litter numbers add up, but so does trash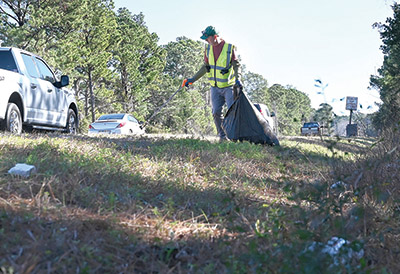 Tom Martin picks up litter near the Waccamaw River bridges.
Tom Martin likes to leave a little trash alongside Highway 17.
But it's always bagged, and it never stays there too long.
The problem, said Martin: "It keeps coming. It just keeps coming."
Over the last year, the North Litchfield resident's efforts to reduce litter along the highway south of Pawleys Island has filled more than 700 trash bags. What started as a solo effort during Christmas in 2021 attracted scores of other volunteers and coincided with Georgetown County's adoption of a master plan to reduce litter with help from a state grant.
"I think they've definitely made a difference on that stretch of road," said Maureen Mulligan, the county environmentalist. "Everywhere else is getting worse, unfortunately."
Martin was first attracted to the 6.2-mile section of highway by the litter that he saw while driving over the bridges into Georgetown. With the exception of the area around Hobcaw Barony, there were no regular litter cleanups like those that take place in the landscaped portions of the highway in Pawleys Island and Litchfield.
The bags of trash that sat on the roadside until they were collected by a county crew were a way to advertise the drivers that the
A significant amount of litter had accumulated along the highway after the coronavirus pandemic forced the county to stop letting jail inmates work on its litter crew. A cleanup last February drew more than 30 people. They collected 175 bags of trash on a rainy Sunday morning.
"We need about 50 people on one of these things," Martin said.
But collecting trash with traffic breezing by at 60 to 70 miles an hour isn't something that appeals to everyone. "It adds another element of uneasiness," Martin said. Some volunteers who tried it once, told him they preferred to work elsewhere.
"It's proven that the best way to keep an area clean is to get the community involved," Mulligan said. "Once they have it nice, they don't want it going back to what it was."
Martin is trying to figure out how to get more people involved and how to clean up more often.
"If we don't hit all those sections within six weeks, it builds up. Then it becomes a real burden to pick up," he said.
Martin also thinks that local officials could do more to raise the profile of the litter problem by adopting a ban on single-use plastics.
During one cleanup on the southern stretch of Highway 17 sponsored by the North Inlet-Winyah Bay National Estuarine Research Reserve, which is based at Hobcaw, volunteers used a phone app to document what they found. Plastic accounted for 62 percent of the items. Food wrappers, Styrofoam and bottles accounted for over two-thirds of the plastics.
Mulligan plans to focus more attention on education this year. A student art contest led to the creation of a road sign that will be used for the county's anti-litter campaign. It will be rolled out next month.
By working with students, Mulligan hopes to promote the idea that the amount of waste people generate isn't sustainable. One reason that the volume of litter remains high in spite of decades of cleanup efforts is that the volume of waste is growing. That's something the county sees at its landfill.
"We live in a throw-away society," Mulligan said.
The county's own efforts to clean up increased last year with the state grant. Between March and December, over 60,000 pounds of trash were collected from along the roads. Heavy debris, such as furniture, was removed from over 800 miles of road, Mulligan said.
"I can't even imagine what it would look like if we hadn't been out picking up stuff," she said.
Martin plans to continue his efforts. "I've got too much invested in it to let it go."
Groups that want to organize cleanups can contact Mulligan at 843-545-3452.