Long-time assistant takes over from veteran inlet fire chief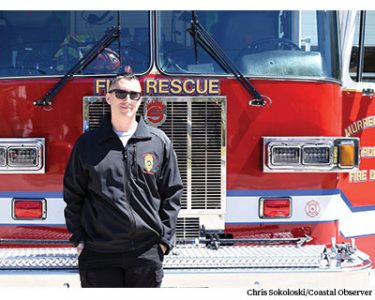 Chief J.R. Haney joined the department as a paramedic.
J.R. Haney is now in charge of the fire department he joined 17 years ago as a paramedic. He was named last week to replace Norman Knight as chief of the Murrells Inlet-Garden City Fire Department.
"This department has always been a big part of my life," Haney said.
He was 22 when he was hired. He's now 40.
"I got married in 2005 and rode off in one of the buckets on the ladder truck," he said. "I've been to more funerals than I want, but probably been to more weddings than those. It's been quite a ride."
Knight retired in January after 40 years as a firefighter, including 19 as the department's chief.
"Chief Knight has been my chief for nearly half my life," Haney said. "Having his mentorship since I've been his assistant chief since 2012 … I think I had a benefit that a lot of others didn't."
Haney has done almost every job in the department including firefighter/paramedic, engineer/paramedic, EMS captain and assistant fire chief.
"I can tell you the tread depth of every one of our tires, how many rolls of toilet paper we have here [and] the names of all of our firefighters' kids," Haney said. "The crews that have worked with me … they know what to expect and know what I'm looking for and we have that relationship. I think that's going to help keep moving us along."
A desire to help people is what attracted Haney to the job.
"I gravitated to the paramedic side because of the ability to instantly to see the difference that you're making in somebody's life," Haney said. "When they're in the back of that ambulance and they can't breathe or they're having a heart issue, I can do something immediately to ease that pain."
It's a good feeling, and he added, "It's kind of addictive and you want to continue helping more people."
The Murrells Inlet-Garden City Fire Department is state special-purpose district that runs north from Brookgreen Gardens across the Georgetown-Horry county line to Surfside Beach and from the Waccamaw River to the Atlantic Ocean.
When Haney was hired as a part-time paramedic, the department had just started its EMS service. "We've watched it just grow 200-fold," Haney said. "It's unbelievable."
Haney sees the biggest
challenge for the department going forward will be keeping up with the rising demand for services and recruiting new firefighters and paramedics.
"Nationwide there is a paramedic shortage," Haney said. "It used to be just paramedics, but now we're seeing it on the EMT side as well."
The shortage is not just local, but across the country, he added.
Haney said the department also needs another ambulance. A referendum last July to increase the district's millage rate to pay for it was rejected by voters.
"While we've seen the fire side of the calls kind of ebb off a little bit, the medical side is ever increasing," Haney said. "So keeping up with that demand is really our main focus.
Haney is a native of Charlotte and moved to the area in 1998.
"I figured if it was good enough to vacation it should be good enough to live," Haney said.
Haney's family includes his wife, Katherine, and all of the other employees of the fire department.
"When you spend so many days a week with one another and go through some of the hard things we have to go through, you do have that bond," Haney said.
In his spare time, Haney likes to go rock crawling in his off-road vehicle.
"When you're working here and you're doing this day in and day out almost seven days a week, you want to do something that's going to take you to the mountains or take you out into a desert for a little change of environment," Haney said.