Lost stories and forgotten dreams emerge from a leather bag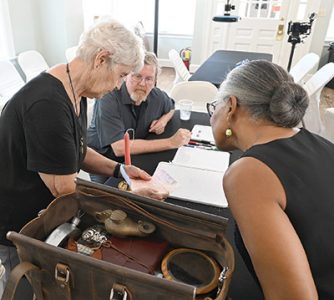 Chris Stapleton watches Karen Yaniga, left, and Vanessa Greene, unpack the Joseph Rainey StoryTrove.
In a room below Georgetown's iconic Town Clock, a brown bag sat on a table. There was a story inside.
Vanessa Greene took hold of the narrative immediately. She knew that Joseph Hayne Rainey, the first Black elected to the U.S. House of Representatives, was the son of a barber and a barber himself. The bag could be a gift from father to son.
Karen Yaniga's first thought was, "Why am I here?" She knew little about Rainey.
Three hours later, the contents of the bag lay on the table. Greene realized she knew less about Rainey than she thought. Yaniga realized she knew more. Both said they were eager to keep learning.
That is the goal of a StoryTrove, a creation of Chris Stapleton, who has spent a 30-year career in visual storytelling for film, theater, theme parks and the military. He founded a company, Simiosys, to find new forms and applications for storytelling. For the last year, he has worked with the Rice Museum to tell the story of Rainey, a Georgetown County native who began life in slavery.
Greene and Yaniga were among the people invited to unpack the prototype StoryTrove over the weekend. Greene runs an arts and culture consulting business. Yaniga has been involved in a range of community activities, including arts and education.
"We wanted people who could be critical," said Zenobia Harper, a member of the museum board.
While the target audience might be school children, it can be used for adults. The StoryTrove was developed as a way to help with the therapy for people who had lost their speech due to a stroke. A researcher in the project, who lives at Pawleys Island, connected Stapleton with the museum.
"We've been working on this over a year," said Harper. The current prototype covers Rainey's life from his birth in 1832 to his election to Congress in 1870. She envisions a StoryTrove that covers his five terms in the House and one for his life after his defeat following the removal of federal troops from the state.
"I was legally elected, but was defrauded and tissued out of my seat," he said in his final speech, referring to a practice of placing tissue ballots inside regular ones to stuff the ballot box.
While Rainey's time in Washington is well documented, his early life is not.
His father, Edward, bought his family's freedom sometime in the 1840s. Rainey worked as a barber at the Mills House in Charleston and married his wife, Susan, in Philadelphia. They were living in Charleston at the start of the Civil War, but fled to Bermuda. Rainey returned to Georgetown in 1867 and helped found the Republican Party.
"A lot of times there are these details that you have to speculate in between," Stapleton said. "Everyone has a different speculation, which reveals a lot about their notions of what history was. Those competing speculations stir up conversations, and that's our objective."
The leather bag includes letters and documents along with personal belongings, such as a barber's tools and a quilt. There are photos and maps. They aren't artifacts, Stapleton said, but "artifakes derived from historical documents or references."
They are there to start a conversation.
"So much of importance of our American history are lost stories and forgotten dreams. Whether they're not written down or they've been suppressed or they've been destroyed," Stapleton said. "We have to go into that and understand what would have been. We have to, as a historian, use a little historical fiction to do that."
Greene was inspired by some of the letters, and moved by a pair of eyeglasses, but she had some doubts. Were these actually found in Rainey's bag, she asked.
"What do you think," Stapleton said.
"They could have been found," Greene said.
Yaniga looked over a map of the U.S. in 1850 after compromise legislation averted a split between the free states and slave states. She recalled that the town in Pennsylvania where she grew up was a stop on the Underground Railroad for former slaves fleeing to Canada.
"This is like a box that I found at my great-grandmother's," Yaniga said of the trove. "It's a wonderful way to teach history."
"Historical fiction is a really fine art and craft that the limitation of history is the root of the creative story," Stapleton said. "What it does, what history doesn't usually do, is it brings the emotional framework of history to start to answer the questions of 'why' versus just 'what' and 'when.' "
To test the prototype, Stapleton recorded the sessions on video, suspending a 360-degree camera above the table. He will review both how the items prompted conversation and how the participants responded to one another during the conversation.
While he played a role in directing the discussion, that was mainly to remind the participants that there was more to see if they continued to explore the bag.
"There are no rules. There are no wrong answers. There are no instructions," Stapleton said. "That takes the artistry of telling stories with objects."
One session lasted five hours. "What I call this is an infinite story in a finite space," he said.
Stapleton is also working with the Main Street America program to help build educational tourism programs. The focus on Joseph Rainey for a StoryTrove came from the Rice Museum, which is marking its 50th anniversary this year.
"We try to take a community's story and give it national significance and national reach," Stapleton said. "We try to find not only the entertainment aspects of it, but the educational aspects."
His company is looking at other ways in which StoryTroves can reduce isolation for students leaving home for college or astronauts traveling to Mars.
"Social media doesn't necessarily make us more socially cohesive," Stapleton said. "We're looking at ways to increase social cohesion."
History and cultural heritage are the starting point, he said, because they teach the essential skills needed for other subjects: creative problem solving, critical thinking and team work.
Yaniga was convinced. "We don't need books," she said. "We need this bag."