Love comes the second time around for director's debut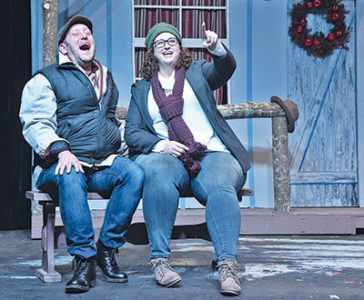 David Lebahn and Laura Bannister are among the cast of 18.
Love is in the air at the Strand Theater in Georgetown.
The Swamp Fox Players kick off the new season this week with "Almost, Maine." The play takes place within a 10-minute timeframe in a small New England town before the aurora borealis appears. The town got its name from almost being in Canada and almost being incorporated.
During short vignettes, couples discuss their status, whether it is falling in love, already in love, used to be in love or falling out of love.
"Each scene is its own story about love," said Stephen Stewart, a 2013 Waccamaw High School graduate who is making his directorial debut. He said the play is romantic, but it's also a comedy.
Stewart has been involved in theater since he was a child and with the Swamp Fox Players since 2003.
"I always thought, what would I do differently or how would I do that if I was the one in charge?" Stewart said. "So now is my time."
He said the biggest challenge as director is keeping everyone and everything organized. "I've always been on stage and backstage so I've never seen this part of the production," Stewart said. "It's a lot of stuff I don't know how to do."
Stewart started planning for the production about a year ago. As the date for opening night approached, he was becoming more and more nervous.
"Anxiety and stress have set in," Stewart said. "At the beginning I was pretty chill and then it started getting worse and worse and worse. But I trust my cast. I have full faith in them."
Laura Bannister, who lives outside of Andrews, had worked with Stewart before and wanted to be a part of a production with him at the helm.
"I think [this play] is cute," Bannister said. "It's all kinds of different couples and you kind of get just one little bit of their life and they're all at different stages of love."
"It's a great show, it's got a good message," said Dave LeBahn, a Pennsylvania native who moved to the area from Boston four months ago. "There is a beauty in the art of storytelling. In today's world we are inundated with 3- to 30-second increments of life. We're losing our ability to sit and focus and see a story from beginning to end. It's in that lengthier version of storytelling that we see ourselves. We see our struggles, and we see the struggles of the people around us which helps us be a little more empathetic."
Grace Yant, 15, recently moved to Georgetown with her family and hasn't had a chance to make a lot of friends yet.
"I really enjoy acting," Yant said. "I thought it would help me make some friends."
She sings at New Hope Church but has never acted before.
"I think I'm going to be super nervous," Yant said.
Along with performing on stage, the actors are also required to help change the sets between vignettes. Some sets can be broken down and rolled off stage. Other pieces have a scene on each side and are rotated.
"That's how it was for high school and I think that's the way it should be," Stewart said. "What's the point of having a crew if you don't need it?"
Stewart and the cast have been rehearsing the changing of scenery. He said it's as important as the actors learning their lines.
"Your stage directions [and] what you're supposed to be doing while you're not talking is just as important as the words themselves," Stewart said.
"Getting a lot of people to be where they need to be when they need to be there has been troublesome," Bannister said. "We have a lot of people who are young so they're learning how to be more comfortable with themselves. You can see them progressing into their character on stage so it's kind of cool."
LeBahn said the challenge of this production is getting the large cast of 18 actors to work together cohesively in a manner that best suits the production.
"It's kind of tough sometimes," he added.
Stewart and Kenzie Confer were supposed to perform "Almost, Maine" when they were both at Waccamaw High in 2011. Confer said a group of parents raised concerns about the play's content and it was canceled.
"I thought it was a fantastic show and I loved it and I thought it would be great to bring to this stage," Stewart said. "I thought it would be great for my directorial debut."
If you go
What: "Almost, Maine" by John Cariani.
When: Feb. 28, March 1-2 and 7-9 at 8 p.m. March 3 and 10 at 2:30 p.m.
Where: Strand Theater, Georgetown.
How much: $18. Call 843-527-2924 for tickets.