Five-year hitch turns into Marine's 38-year career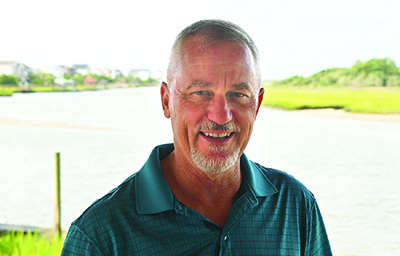 Stacy Clardy III has always called Pawleys Island home.
Imagine the deck of a landing ship. Other ships stretch to the horizon.
A Harrier jump-jet lands on the deck as F-18s fly low overhead. Boats carrying Marines make their way toward the shore. Naval gunfire.
It might be a training exercise, but "there's a wow factor."
Scenes like that come to mind when Stacy Clardy III recalls his 38-year career in the Marine Corps as he sits on the deck of his father's house overlooking Pawleys Creek.
"All those moving parts. No one else in the world can do that," he said. "Focus all that power on one spot, the right spot, we can't lose."
Clardy retired from active duty this year as a lieutenant general, one of only 14 in an organization that has between 175,000 and 200,000 personnel. Gen. David Berger, commandant of the Marine Corps, led the retirement ceremony for Clardy in April on the steps of the state capitol, the same place he was commissioned as a second lieutenant in May 1983 after graduating from the University of South Carolina.
Clardy received the Distinguished Service Medal, his second, from the commandant. Weeks later, he was back at the capitol to receive the Order of the Palmetto, the state's highest honor.
His career included two tours of combat duty in Iraq and eight years in the Pentagon. His promotion to three stars in 2017 came with the assignment as military deputy for readiness to the undersecretary of defense for personnel and readiness. He was nominated by Secretary of Defense James Mattis, a retired Marine general.
Clardy had previously served as a deputy director on the Joint Staff.
His final assignment was as commander of III Marine Expeditionary Force on Okinawa. It was his fourth tour of duty in Japan.
He is the only Georgetown County native to have reached the three-star rank, according to researchers.
While he was born in Georgetown 62 years ago this month, Clardy actually grew up in different places along the East Coast, the son of a Navy captain, H. Stacy Clardy Jr., and the late Margaret Ball Clardy.
"Between Georgetown and Pawleys, this has always been home to us," Clardy said. "Any time that Dad had leave. Or Mom and my brother Chris would come here if he was deployed. This was always home."
His grandfather, Herman Stacy Clardy, was an attorney in Andrews and Georgetown. He served as the county probate judge. In the late 1950s, he and Laurice Rhem bought a tract in the Bird's Nest section on the south end of Pawleys Island. Capt. Clardy built his house on the creek in 1981 after retiring from the Navy. Gen. Clardy owns a house across the street. So does his brother.
Gen. Clardy said his first lessons in leadership came from watching his father command ships. "I think we're all the product of how we grew up and who raised us," he said.
He joined the Navy ROTC as a freshman. Then someone handed him a book: "Marine! The Life of Chesty Puller."
"I didn't know anything about the Marine Corps," Clardy recalled. "I read the book, and I said, 'I want to be just like that guy.'"
Puller is the most decorated Marine in history. He served 37 years and also retired as a lieutenant general. He commanded the 3rd Marine Division, which Clardy would lead 60 years later.
Clardy said the choice of service was also because "I wanted to kind of take my own path."
Capt. Clardy, who enlisted in the Navy at 17, said he didn't have any problems with his son's choice, although he admitted joking that his son might have retired as a lieutenant commander rather than lieutenant general had he joined the Navy.
He added that Gen. Clardy had been a leader when he was a Cub Scout, a Boy Scout (who reached the rank of Eagle) and a JROTC member. "He was always the head man," Capt. Clardy said.
The younger Clardy figured he would spend four or five years in the Marines and do something else.
"I didn't even think I was a particularly good Marine at the time, but I realized I liked being with the Marines," he said.
The average age was 25. Most of the Marines he worked with at the time were much younger.
"I liked being around them. So I made a decision I would stay as long as the Marine Corps would have me," Clardy said.
He went through the same process at 20 years. He and his wife, Alison, who spent eight years on active duty and 12 in the Marine Reserve, bought property on Lake Murray.
Clardy was willing to take any assignment offered. "The ones that weren't either intriguing to me or I thought wouldn't help me in terms of my development turned out to be the best tours," he said.
One had him working in public affairs at Marine Corps headquarters. "I didn't want to do that," Clardy recalled.
But it led to an assignment in Okinawa where he was working with the national and local government.
"It also helped in combat in Iraq," he said. "In 2007, we were fighting an insurgency and I had to work with the local tribes, sheiks, and build coalitions."
Leading Marines in combat was his greatest challenge.
"You worry a lot," Clardy said. "You want to make sure you're getting the job done, but you also want to make sure you bring everybody home.
"Those were the most challenging times in my career. They also, in some ways, are the most rewarding and cause me to … love the Marines," he added with a pause. "I've seen them in some of the most barbaric and austere places in bad situations. And they always rose to the occasion."
He joined the miliary at a time when it was unpopular and retired when people regularly thanked him for his service. He left an optimist.
"I tell people all the time now I believe our future's bright," Clardy said. "I see all these young people who are the products of our society and they're out there someplace doing good things."
He's building a house on the lake, convenient to his three daughters who live in Charleston, Raleigh and Washington. They have careers in science and medicine.
"They didn't get that from me," Clardy said. "I'm an infantryman. I dig holes."