'Lynch mob' label draws demands for apology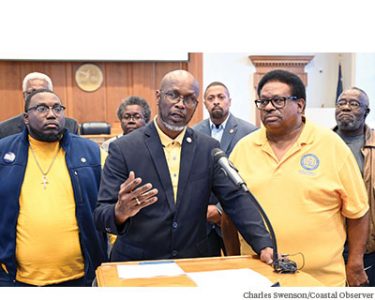 Marvin Neal, center, responds to comments made earlier in the month by former County Council Member Bob Anderson.
A critique of County Council by a former member drew a sharp rebuke from the local chapter of the NAACP and other citizens groups this week. And while they focused on the use of the words "lynching" and "mob" by former District 6 Council Member Bob Anderson, speakers at this week's council meeting reserved their most pointed criticism for the council chairman John Thomas.
"For the chairman, Mr. John Thomas, to allow such inciteful words and tone, it should have signaled to the County Council that there is a need for change in the leadership as it relates to the chairman's position," said Marvin Neal, president of the NAACP chapter.
Earlier this month, Anderson took to the podium during the 30-minute comment period that precedes each council meeting to label the council "dysfunctional" for failing to stand up for Council Member Austin Beard after he was the target of attacks because he did not live in his district as required by law. Beard resigned in April after the county election commission found he was not properly registered to vote.
The county administrator and finance director announced their retirements in May. Later, the county attorney took a job with the Waccamaw Regional Council of Governments.
"During the Austin Beard lynching, the mob expanded their targets to include our county administrator and his staff," Anderson said.
While Beard and Administrator Sel Hemingway had both black and white critics, it was the NAACP that challenged Beard's residency.
"The word lynching should never be used to describe when citizens stand up for their rights," Steve Williams, a Georgetown resident, said. "If you know anything about the history of South Carolina and America, you should know that that is one word that should not be used in describing citizens who are standing up for their rights."
A study by the nonprofit Equal Justice Initiative found 185 lynchings of black people in South Carolina from 1877 to 1950, including one in Georgetown County.
Anderson called on the council to limit comments to items on the agenda and said the chairman should ask speakers who stray or are not civil to sit down.
Thomas should have told Anderson to sit down, said Wesley Gibson, a leader of the West End Citizens Council in Georgetown. "Shame on you," he said and called for an apology. That was echoed by other speakers.
Neal said Thomas also let Anderson exceed the 4-minute time limit, which he said showed Thomas' "prior approval."
Thomas said later that he didn't know what Anderson was going to say, and he added that he often allows speakers to run over the time limit, as he did for Gibson this week.