Mask ordinance seen as sending needed message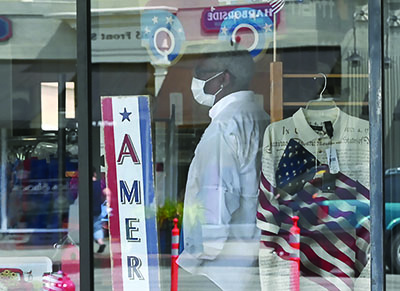 Georgetown County and the city of Georgetown approved mask ordinances last week.
Local business owners now have a recourse when customers refuse to wear a mask indoors: no mask, no service.
"It keeps it simple, people know what's expected and it levels the playing field," Beth Stedman, president of the Chamber of Commerce, said about an ordinance passed by County Council last week. "All businesses are doing the same thing and are on the same page. You're not going into one restaurant and having one set of rules and then going next door and there's a different set."
Council voted 6-1 to require people over the age of 10 to wear masks in food service establishments, retail stores, grocery stores and pharmacies.
A poll of Chamber members last week showed support for the ordinance, Stedman said.
David McMillan, owner of Drunken Jack's and Inlet Affairs and past president of the S.C. Restaurant and Lodging Association, welcomed the council's move.
"We really felt that it put us in a very tough situation when we're requiring our staff to wear a mask and take precautions, and up until last week, less than two percent of the customers were wearing them," McMillan said "It was really disproportionate and it made our staff wonder what's the purpose. We're trying to protect them and [customers] don't care."
McMillan hasn't seen the pushback from customers that some people anticipated.
"With all the publicity and focus being on these numbers rising so rapidly, I think there isawareness now that wasn't there a month ago," McMillan said. "The sense of urgency has really set in with people."
Charlie Biddix, president of Palmetto ACE Home Center, had a couple of incidences of customers refusing to wear a mask before the ordinance was passed.
"We have plenty of masks to sell. Some of them just don't want to buy some," Biddix said. "They'll pull their shirts up above their nose and breathe through their shirts. They'll do anything. We've had to ask a few to leave the premises."
The store had already put up shields at cash registers and service counters, and provided masks, face shields and gloves for employees to use, but did not require them to be worn.
"It was up to them and their comfort level as to whether they wanted to wear it or not," Biddix said. "My employees, the minute it was law, they jumped in and they all put them on. Everybody is doing their part."
Robb Bunn, owner of Pawleys Pedalar and the Pawleys Island Men's Store, said every customer entering his stores on Friday was wearing a mask.
"We feel like we didn't even have to enforce it. For some reason our clientele doesn't mind wearing them while shopping," Bunn said. "We've had no one really objecting to it at all. We've had no confrontations with anyone. It's just been a pleasant experience even before the mandate came out."
Stedman is grateful the county is taking steps to keep businesses open.
"I think the main thing is with so many of these businesses, we need to do whatever we can do to keep them open so that they don't have to close again," she said. "We surely don't want to go through another shutdown."
Bunn doesn't want to see another closure either. He's still recovering from when Gov. Henry McMaster closed non-essential businesses in the spring.
"We'll never recoup the money we lost being closed for those 42 days, but at least we're up and running and being able to pay our bills," he said. "Ever since our doors have reopened, our customers and people have been so accepting and responsive. Everybody has been so nice and wonderful."
The spike in cases is also causing postponements and cancellations.
The Georgetown County School District this week postponed the start of sports activities until further notice. They had been delayed from June 29 to July 20. That announcement came days after the district canceled the Academic Recovery Camps that were scheduled for the middle of this month to help some of the district's youngest students catch up with work they missed while schools were shut down due to the coronavirus.
The state's Department of Parks, Recreation and Tourism announced the cancellation of the Atalaya Arts and Crafts Festival, which attracts thousands of people to Huntington Beach State Park every September. Instead, a virtual version of the festival will be produced that will allow people to purchase items from participating artists.
The town of Pawleys Island closed Town Hall to visitors except by appointment.
Georgetown County closed the auditor's office on Wednesday after an employee tested postive. The county's Elections Office and the Georgetown Magistrate's Office remain closed due to COVID-19 as well.
On Friday, Tidelands Health is hosting a free drive-through COVID-19 testing site at Georgetown High School. The event begins at 10 a.m. and will end when testing supplies run out. Pre-screening and pre-registration is not required.
Testing will be available for people age 2 and older. Anyone under the age of 18 who wants to be tested must be accompanied by a parent or guardian.