Mayor contrite, but won't quit over post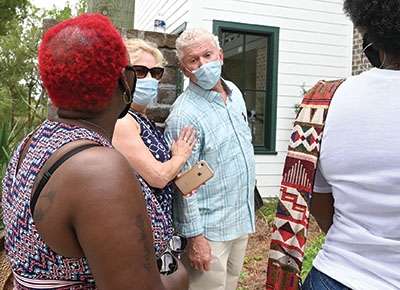 Eliza Gibbs, right, and Kim and Scotti Madison argue during the NAACP press conference outside Town Hall.
Pawleys Island Mayor Brian Henry said this week he does not plan to resign in the face of the protests that followed a social media post that was condemned as racist. The first-term mayor was at work this week on a statement scheduled to be released at a press conference today at 2 p.m. addressing the impact of the post on the town and his business, Palmetto Cheese.
"I want to get a message out that I'm trying to make something positive out of this," Henry said.
A social media firestorm was ignited by a Facebook post last week Henry made in response to the shooting deaths of two Georgetown area residents, who were white. A Berkeley County man, who is Black, was charged with the murders, which followed a traffic accident on Highway 521. The victims, Laura Anderson, 21, and Charles Wall, 42, were related to family friends, Henry said.
"I was crying and I was mad. I was hurting for that family," Henry said. "I poured some emotion into it, some grief into it, some frustration into it."
The 274-word post questioned what the response would have been if a white person had shot two Black people and went on to conflate the shooting with violence at protests over racial injustice around the country.
"Rise up America. This BLM and Antifa movement must be treated like the terror organizations that they are," Henry wrote, referring to Black Lives Matter. "Law and order, protection of liberty, and right of peaceful enjoyment. If we don't have that, we no longer have a country."
He called for action to "stem the tide of this lawless fringe."
And Henry continued, "All lives matter. There I said it. So am I a racist now?"
Marvin Neal, president of the local chapter of the NAACP, stopped short of calling him a racist. They served together on the Georgetown County Planning Commission.
"But one thing I do want to do is make sure we address the racist comments. That's important," Neal told a crowd gathered outside Town Hall for a press conference on Saturday. "I have to call it what it is."
The NAACP called on Henry to resign. Others called for a boycott of Palmetto Cheese, a business run by Henry and his wife, Sassy. The brand says it is the nation's top-selling pimento cheese.
By that point, Henry had deleted the post. He said the initial response was benign. "There were a lot of likes, a lot of shares," he said. "Nothing negative. Nothing."
But as it began to circulate, he saw it labeled racist on Twitter. "It just kind of took on a life of its own on social media," Henry said.
Where Henry crossed the line, was in blaming a Black movement rather than a Black man for the Georgetown shooting, Thomas Dixon, a pastor and community activist from North Charleston, said outside Town Hall. "If he had not said that, we would not be here today."
And he said, "Don't believe the narrative that lumps everybody into this fictitious narrative of Black Lives Matter."
Henry said his intent was only to focus on "the fringe."
"The Black Lives Matter movement, I get it. I understand it. It's certainly legitimate. But the periphery causes damage and it takes away from the message and it gets most of the media attention, and I reacted to that," Henry said.
As for resigning, "It would not change anything," he said. "I still want to serve this island."
While the reaction to the post focused on his role as mayor of Pawleys Island, which is confined to the island itself, it grew to include his business.
"The Palmetto Cheese impact is in the balance," Henry said. "There is a boycott movement that may or may not pick up steam."
Two speakers Saturday claimed that the cheese recipe belonged to an employee, Vertrella Brown, who cooked at the Sea View Inn, which the Henrys own. Brown's face is on the package. She died earlier this year.
"They made a fortune off her cheese," said Eliza Gibbs, who was Brown's sister-in-law.
"She trusted her recipe with this man," said Carrie Bethea. Her grandson, Deondré Brown, was shot and killed outside her home in December. He was also Vertrella Brown's grandson. A white teenager was charged with murder and robbery. A juvenile was also arrested in the case.
"Two white boys came up in my yard and gunned down my grandson. Where was he?" Bethea asked of Henry.
"Brian paid for the funeral," Scotti Madison, an island property owner, shouted from the crowd.
The cheese recipe was Sassy's, Henry said. Vertrella Brown used it to make appetizers for inn guests. She added "soul," which became the slogan when they began to market Palmetto Cheese.
Henry said Brown received compensation for the use of her image on the label.
He described himself as "contrite" and said he has spoken with many people in the Black community, including his employees, over the last week. "It's been unbelievable, and I'm very grateful for that."
One former employee, Frances Duncan, spoke outside Town Hall. Henry helped her and all his other Black employees, she said.
"He made a mistake. I'm not saying he didn't, but he loves everybody," Duncan said.
Members of Town Council have received emails sent via the town's website and social media about Henry's post. The majority were negative, but a few were from residents or property owners.
"I've heard nothing but support from the constituents I've talked to," Council Member Guerry Green said.
Council Member Rocky Holliday said he had heard "very little," but didn't want to comment further.
"It doesn't reflect the views of Pawleys Island," Council Member Sarah Zimmerman said she told the people who spoke with her.
"He made a mistake, but I hope we can get past it," Council Member Ashley Carter said.
The council members all said they don't use social media.