Mayor's apology draws new wave of criticism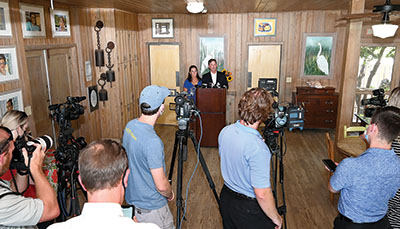 Brian Henry addresses reporters at the Sea View Inn.
An apology from Pawleys Island's mayor for a Facebook post that was condemned for racist language and led to calls for his resignation brought a new wave of criticism last week from people who said he had nothing to apologize for.
Both sides focused their attention on Mayor Brian Henry's business, Palmetto Cheese, threatening to boycott the product, which is the nation's leading brand of pimento cheese.
The town received more than 60 comments through its website and social media pages, according to information obtained through an open records request. Most were negative, including some from people who described themselves as visitors and said they would not be returning.
The town also received comments on social media managed on its behalf by the Georgetown County Chamber of Commerce. The social media managers stopped posting for five or six days after the mayor's post.
But the mayor also got support, including from some who have ties to the island. They said he had done nothing wrong. Some said they would be buying more Palmetto Cheese.
Henry's post followed the shooting death of two people at a traffic accident in rural Georgetown County. The victims were white. The alleged shooter was Black.
Henry tied the shooting to the racial justice protests that have turned violent.
"So why do we stand by and allow BLM to lawlessly destroy great American cities and threaten their citizens on a daily basis?" he wrote.
He said Black Lives Matter and antifa "must be treated like the terror organizations that they are."
Henry said he knew the family of the victims. "It definitely came from a place of grief for the family," he said in an interview last week. "It was raw emotion."
The local chapter of the NAACP held a press conference at Town Hall to call on Henry to resign. Henry said last week that he has no plans to resign. The NAACP has scheduled a protest rally for Monday outside Town Hall.
Henry held a press conference of his own last week at the Sea View Inn, which like Palmetto Cheese is owned by Henry and his wife, Sassy.
"I want to start out by saying I am profoundly sorry to those I offended with my post," Henry said, speaking from a lectern in the dining room where watercolor portraits of the inn's Black staff look down from the walls. "My comments were hurtful and insensitive."
Henry met the day before with Black ministers in Georgetown and Pawleys Island. Those and other conversations "provided me with a deeper understanding of racial inequality and the importance of diversity sensitivity, which is very much needed to heal Pawleys Island, Georgetown and our country," he said. "My goal is to be a part of the long-term solution, and I'm committed to that."
Henry said he will create a foundation in the memory of Vertrella Brown, a long-time cook at the inn who died earlier this year. The Henrys have said over the years that it was Brown who put the "soul" in Palmetto Cheese when she prepared Sassy's pimento cheese recipe for guests at Sea View. Her picture has been on the label since they started selling Palmetto Cheese in 2006.
At the NAACP press conference, a member of Brown's extended family, said the recipe had been Vertrella's.
"That is simply not true," Henry said at his press conference. "Vertrella's image was placed on the lid because we felt she embodied the love of cooking Lowcountry cuisine, and we have always had a private compensation contract with Vertrella and her family."
Her image will be removed from the label.
The foundation that will be created in Brown's name will work to improve race relations, provide scholarships and offer grants to "help other aspiring entrepreneurs get their products on grocery store shelves," Henry said.
It will also support local food banks.
Henry didn't address the town of Pawleys Island, where he has served as mayor since last November. He said in an interview that he wants to help make sure the strategic plan that he initiated this year is completed. He also wants to help the town heal from a divisive election.
Town Council created an events committee to manage the town's regular events, such as the Fourth of July parade, and create new opportunities for people to get together.
A meeting of that committee, which includes Sassy Henry, was postponed after the uproar over the Facebook post.
Calls came in to Town Hall after the mayor's apology. Some were not happy. One email to the mayor chastised him because he "wilted in the face of mob outrage."
"Please don't cower from your comments," another email said.
Administrator Ryan Fabbri said he forwarded all the emails to Town Council. The council will hold its regular meeting Monday at 5 p.m. Fabbri expects it will be done virtually, just like last month's meeting.