Midway chief who rose through the ranks prepares to retire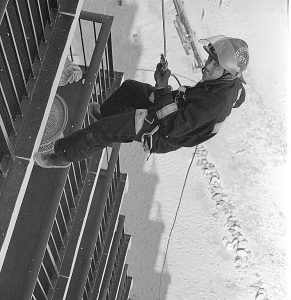 Doug Eggiman trains at a Garden City high rise in 1987, his first year as a paid Midway firefighter.
John Stewart remembers a "scrawny, blond-haired boy" joining the Midway Fire Department as a volunteer in 1985.
After seeing the boy in action at a couple of fires, Stewart wasn't sure he was going to cut it as a firefighter.
That boy was Doug Eggiman and he proved Stewart wrong. Eggiman will retire as chief of Midway Fire Rescue on Dec. 30.
"I've just been very blessed," Eggiman said. "I've had good opportunities and I had a supportive environment."
Eggiman grew up in Saint John, New Brunswick, Canada, and moved to the Waccamaw Neck in August 1985 to work as a night auditor/safety coordinator at Litchfield by the Sea.
He joined Midway as a volunteer and started taking firefighting and EMT classes. On Oct. 1, 1986, he was hired as Midway's third paid firefighter.
"It was more of a learning experience for everybody," said Mike Mock, who was Midway's chief for 23 years. "It was new to the department and most of those guys had volunteer backgrounds. The transition was really a learning experience."
"By that time he got the hang of it and knew what he was doing," Stewart said. "You either got it or you don't. I didn't think he had it in the beginning, but he never gave up. That's the main thing in this service. Don't ever give up."
In 1997 Eggiman became one of Midway's first battalion chiefs, and was promoted to assistant chief in July 2001.
"I knew that Doug had the potential of becoming chief in the future because he had the instincts, he had the ability to learn quickly and he actually started early in his career taking a lot of classes that would help him to get to that point," Mock said. "Certainly the potential was there."
"I think he was well-respected. I think that was one reason he rose through the ranks," Stewart said. "He got along with everybody and everybody respected him for his knowledge."
When Dan Wetsel retired in April 2003, Eggiman was named interim chief. Two months later the interim tag was removed.
Brandon Ellis, the county's director of emergency management, has known Eggiman for more than a decade.
"He's a great guy, very humble and very community-oriented," Ellis said. "He's driven to protect the community through his position with the fire service, but he's also very involved in the community and has a deep love for the Pawleys Island area."
Ellis has worked with Eggiman during emergencies, and said the chief always remains calm.
"He does a very good job of keeping his focus on the situation, whatever it might be at hand," Ellis said. "He's always very level-headed and doesn't get too excited. He kind of helps drive the situation by staying calm and keeping things from getting too far out of reach, and controlling what he can control."
Mock, the former director of emergency management for the county, called Eggiman "a very collected person."
"He is very good at thinking through what was going on during an emergency and it helped him make the right decisions to keep the guys safe," Mock said. "The biggest thing is you want to save lives, but you also want to keep your own personnel safe. Doug was always very tuned in to that."
Looking to the future, Eggiman believes Midway needs to add a fourth station in the Prince George area.
"We really haven't grown since 2006," Eggiman said. "We have such a gap between DeBordieu and the Pawleys Island station."
The lack of coverage affects what homeowners pay for insurance because some are more than 5 miles from a fire station, he added.
"That, in my opinion, has to be addressed," Eggiman said. "They pay taxes, they pay impact fees just like everyone else."
One obstacle to a new station would be Midway's ability to staff it.
In the first 20 years after Eggiman was hired as a paid firefighter, Midway added more than 45 positions. In the last 15 years, it has added three.
Part of the expansion was tied to Midway's merger with the Pawleys Island-Litchfield Rescue Squad in 2005.
"You had a lot of big growth that was going on, not only in structures and buildings, but people also," Mock said. "So it was a need-driven program of expansion."
The last time Midway expanded its staff was 2012. That position was funded by a grant from the federal government for the first two years.
"I feel like as a department, we have to grow and we have to be competitive," Eggiman said.
Neighboring departments have higher starting salaries and that difference in pay only grows as firefighters are on the job longer, he added.
"That makes it hard to keep people," Eggiman said. "We have fantastic people and we have a very, very supportive community that really shows their appreciation to the people, but it's hard to keep them."
Impact fees pay for great equipment and facilities, but can't pay for salaries, Eggiman said.
Midway's call volume has more than doubled from 1,786 calls in 2006 to more than 4,000 this year.
"A lot of that is EMS calls, but that doesn't change the fact that it's still calls for service," Eggiman said. "We're stretched super, super thin and in the summertime it's even more dramatic."
Once he retires, Eggiman envisions himself teaching or consulting and volunteering with Midway.
He'll also spend a lot more time with his wife, Eve, their three daughters, Stephanie, Tiffany and Victoria, and their granddaughter, Rosie.
He said if he could go back to 1985 he would tell his younger self to never forget that the job is about service not himself, and be "all in" like Clemson football coach Dabo Swinney says.
"You have to be all in at this and your effort has to be all out effort," Eggiman said. "You owe it to the community, you owe it to yourself, you owe it to your brother and sister firefighters, and you owe it to your family and their families. How could you live with something bad happening to any one of those people knowing that your didn't give 100 percent of your best. There's no room for 70-percenting it."
He would also tell his younger self to always be nice and treat people the way you would want to be treated.
"This job is so much nicer when we treat each other nice," Eggiman said. "You have the opportunity to take someone's potentially worst day of their life, and make it a little bit better."
The county will host a reception for Eggiman on Dec. 30 from 2:30 to 4 p.m. at the headquarters station in Litchfield. The public in invited to attend.