Mom pleads for place for nonbinary students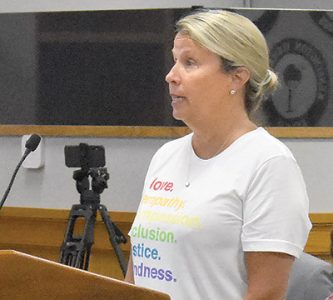 Diane Barnett addresses the school board.
A frustrated Waccamaw High mother told the Georgetown County School Board last week that her child was one of a handful nonbinary or transgender students who were left out of the school yearbook because photos require uniformity.
"If you identify as neither male or female, do you really have to skip the photos for your senior portrait and be totally left out of the yearbook?" Diane Barnett said. "That is what is happening to students in Georgetown County schools."
Georgetown County expects boys to wear black ties and girls to wear a black V-neck top provided for yearbook photos.
"This allows no room for authenticity for kids who identify as nonbinary or trans," Barnett said. "It is time that we do better by all students and let them be celebrated for who they are, not what antiquated rules and guidelines want them to be."
Barnett's child, who is nonbinary, did not have their picture taken because they were not comfortable wearing boys' or girls' clothing. She said some of the 14 seniors whose pictures were not in the Waccamaw yearbook are nonbinary or transgender. Those students names were listed on the last page containing senior photos.
"This is wholly unacceptable. We must do better," Barnett said. "If someone is courageous enough to show you who they are, be courageous enough to see them."
She said a school district official told her it was a district "procedure," not policy.
Barnett also took issue with requiring boys to wear black dress shoes and girls to wear heels for the graduation ceremony. What about kids who can't afford that?, she asked.
"I'm not sure when these policies began, but in 2022, it's time for them to end," Barnett said. "The goal of education should always be to encourage students to think critically and express themselves honestly. Right now, Waccamaw High School is failing miserably at that."
Barnett called the yearbook and graduation requirements "isolating, marginalizing and devastating" for students.
Barnett started a local chapter of PFLAG (Parents, Families, and Friends of Lesbians and Gays) last November. She told the board that PFLAG would work with the American Civil Liberties Union to make sure Georgetown County students have a choice going forward. The ACLU has filed lawsuits against school districts on behalf of transgender students in the past.
"The yearbook and graduation mark important moments and milestones for graduating seniors," Barnett said. "These two events should never be seen as a barrier to education and to inclusion, although that is what they now are."
District policy JB Equal Educational Opportunities states: "The Board supports educational opportunity for students free from limitations or discrimination based upon race, religion, color, disability, sex, age, national origin, immigrant status or English-speaking status, or sexual orientation."
Title IX forbids discrimination on the basis of sex in education programs or activities.
Board Member Mike Cafaro, who holds an at-large seat, said nobody wants people discriminated against.
"It's not a matter of whether you agree or disagree with anything, that's the way it is," he said. "We all have to be open-minded and move on."
Cafaro would like to see Superintendent Keith Price and his staff look into it.
"If we need to fix it, we need to fix it," Cafaro said.
Board members Lynne B. Ford, who represents District 6, and Kathy Anderson, who holds an at-large seat, both declined to comment.
Ford said members are not allowed to respond publically to people who speak during public comment. Anderson said she didn't want people to think she was speaking for the board.
Ina Seethlaer, a professor at Coastal Carolina University and the former head of the school's Women's and Gender Studies department, said rules like the school district has are rooted in patriarchal gender norms that try to perpetuate the belief that you are either a man or a woman.
"I am hopeful that such policies will be forced to change with more and more people living their true selves and allies (such as parents) demanding change," Seethlaer said.
She noted that research suggests LGBTQ numbers will continue to rise.
"Not because it is a 'trend,' but because society has changed and is, at least, somewhat more accepting than in the past," Seethaler said.
According to a study by the Williams Institute at the UCLA School of Law, nearly one in five people in the United States who identify as transgender are between the ages of 13 and 17. Overall, 1.4 percent of Americans identify as transgender.
In South Carolina, 1.4 percent of youth 13 to 17 and identify as transgender. The number 18 and older is less than 1 percent.
The Williams Institute concluded that while the number of Americans who identify as transgender has remained steady, the number of youth who identify as transgender is double what was previously estimated.
Jamesia St. Louis contributed to this story.