Montessori director plans to step down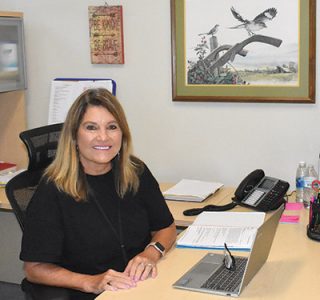 Rosemary Gray took over in 2020 after the charter board fired the former director.
After 40 years as an educator, including the last two as Coastal Montessori Charter School director, Rosemary Gray is retiring.
"It has been an honor and privilege to work with our CMCS families," Gray wrote in an email sent to parents. "Thank you for being so involved in your children's education. Because of your support for them and for the school, they will continue to thrive academically and socially."
Gray was hired in December of 2020 to replace Gene Nicastro, who was hired in March of that year and then fired in November after a disagreement with the school's board about resuming in-person classes during the COVID-19 pandemic.
Nicastro was hired to replace Nathalie Hunt, who resigned in January of 2019 after a disagreement with the school's board about a staff survey of her job performance.
Chip Hennecy, who was interim director for more than a year after Hunt quit and briefly after Nicastro was fired, remains the assistant director at the school. He was finalist for the director's job when Nicastro was hired.
The school's board released a statement congratulating Gray on her retirement.
"She has dedicated her career to instructional leadership, responsible administration and kindness," the statement read. "While she will be missed walking the halls daily by teachers, students and our community, we know that she will continue to be involved with CMCS and will always be 'A Stingray.' "
The statement also said Gray will be involved in the process of finding a new director and coming up with a transition plan.
Gray was an English teacher, principal at Georgetown Middle School and an assistant principal at Georgetown High School. She is also a Realtor with the Litchfield Co..
Gray will stay on as director until the end of the school year.
Tyler Easterling, chairman of the charter school's board, expects the director's job to be posted this week. She said the board hopes to have candidate interviews completed by the end of April, before elections for board seats are held.
Coastal Montessori began classes in December of 2012 inside a wing of Waccamaw Middle School. In 2015 the school moved into its own building on Highway 17 near Allston Plantation.
After a few years of declining enrollment before and during the pandemic, including an average of 207 students enrolled during the 2021-22 school year, the school currently has 232 students. Gray told the board on Monday that 250 students are expected next year and there is even a waiting list for the middle school grades.
In addition to a new principal, there will be at least two new faces on the charter school's board.
Easterling and Sarah Smith, who hold appointed seats, cannot run again due to term limits.
One of those seats will have to be filled by a person who is not a parent or guardian of a charter school student, but is a resident of Georgetown County.
Two other seats are up for election next month. Ashley Nelson and Nikki Graziano are completing their first terms, which means they can run again.
The election is being handled by the Public Charter School Alliance.
Filing opened today and will close at noon on March 30. Candidate forms can be completed online at forms.gle/C3d2vVTT9ue56mVz6.
The alliance will release the information about the candidates on April 3.
Voting will take place from 8 a.m. on April 11 through 4 p.m. on April 13. Only parents or guardians of students and school employees will be eligible to vote. Computers will be available at the school each day from 9 a.m. to 3 p.m. for voting.
The alliance will announce the winners on April 14.
On April 17, the board will choose two people to fill the appointed seats vacated by Easterling and Smith.
The newly elected or appointed board members will be sworn in on May 15.
There are nine seats on the charter school's board – five elected and four appointed. At least three of those seats have to be filled by a person who is not a parent or guardian of a student.
Although the school is part of the Georgetown County School District, the board oversees its operations and budget.
For more information send an email to elections@sccharterschools.org.