Montessori school gets grant to introduce pre-schoolers to the circle of life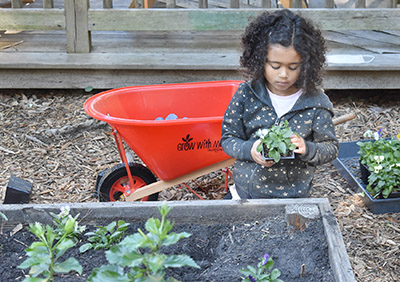 Aviana Brown plants flowers in the school garden.
Take a walk past the Montessori School of Pawleys Island and you might see some of its youngest students digging in the dirt and watering plants.
Students in pre-K classes are learning about food production and the circle of life by maintaining gardens and composting leftover food.
"It really is a great program. They've all really taken a lot of responsibility," said Karen Moree, the school's pre-K lead teacher. "It's really showing them how to produce a sustainable garden and how to grow your own food and take responsibility for taking care of the garden."
The activities are part of School Gardening for S.C. Educators, a Clemson Cooperative Extension program started in 2012. The Montessori school is home to one of the program's 247 gardens in the state.
"It's designed to teach basic horticulture skills and connect folks to their local resources through the extension and other groups that we work with," said Amy Dabbs, Clemson's statewide school and community gardening coordinator. "If students are exposed to gardening from pre-K all the way through 12th grade, they're better prepared as a consumer, or whether they decide to go into a career in agriculture or horticulture."
There have been gardens at the Montessori school for several years, paid for with money donated by parents.
"That's why we were so interested in participating in this Clemson program," Moree said.
In order to join, Moree took a 20-hour online Clemson course this summer and enrolled in Live Well Georgetown County, a Tidelands Health initiative.
Representatives from Clemson occasionally stop by to check on the school's gardens, and Moree attends monthly Live Well meetings to report on her progress.
The Clemson curriculum, which is geared toward students in kindergarten through eighth grade, had to be adapted for the younger Montessori students, as did the size of the raised gardens.
"We're excited about it. It definitely opens up a different group for us and we're happy to work with them," Dabbs said. "I think that's going to work really, really well for them. What better way to get kids learning and excited about science and eating healthy than to expose them this young."
Dabbs also had to find smaller tools for the smaller hands.
Clemson provides plants and seeds four times a year.
Within the next week Moree will be receiving kale and onions.
After the food is harvested, schools either send it home with students, or use it as a classroom snack or for lunch.
"They're helping kids make that connection that what you grow in the garden can show up in the lunch room line. That's not a big separation," Dabbs said. "The kids get really excited when they think it's their broccoli or their kale, especially when the adults make a really big deal about the fact that [the kids] grew it."
Dabbs said sweet potatoes, which are planted in the spring, left alone in the summer and harvested in the fall, are among the students' favorites.
"Some of these sweet potatoes the kids harvest are as big as their hands," Dabbs said. "Those are really exciting moments."
Clemson also supplied Moree with a worm box.
"They save the scraps of their food and put them in to see worms compost that down," Moree said. "Then they add it to the gardens."
Along with Live Well Georgetown County, which funds several programs in the county, the state Department of Education has been paying for educators' training for the past four years. More than 2,000 teachers have completed the training since the program started nine years ago.
Pawleys Island Christian Academy has recently joined and applications are now open for the spring.
"We applaud the teachers for taking the extra step to do something additional, especially right now when it's kind of tough to meet everybody's needs in the school," Dabbs said. "I think they see it as a way to get the kids outdoors with all the COVID fatigue we all have. It's a great way to get kids learning in a different way."
For more information send an email to adabbs@clemson.edu.