Murder victim's family questions bail for teen accused of shooting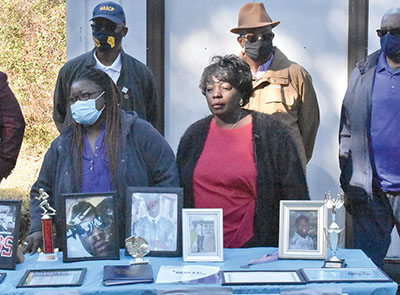 Carrie Williams, right, and Ethel Gibbs with photos of Deondré Brown.
Carrie Williams fears for her life, and the lives of her family members.
Thirteen months after her grandson Deondré Brown was gunned down outside of her Parkersville home, the accused shooter, Aiden Marshall Zasimovitch, is free on bail and has contacted Brown's younger brother on social media
"It's as though he was taunting us to say 'hey I'm out,'" Williams said. "That was showing me that this guy has a mental issue. He has problems. He shouldn't be out."
Williams said her grandson was terrified and thought Zasimovitch might come after him.
"Aiden is out free and he has no remorse," Williams said. "He can contact my grandson and put fear into his heart. It's not fair. This is not right."
Ronald Hazzard, the attorney who represents Zasimovitch, denied his client was a threat and said bail was appropriate.
The 15th Circuit Solicitor's office declined to comment.
Ethel Gibbs, Williams' sister, said the grandchildren who live with Williams and were at home when the murder happened, are afraid when they hear noises outside.
"Fireworks went off for New Year's and she told me the kids ran and got under the bed," Gibbs said.
"The last memory they have of their cousin was watching him through the window as he lie here dying," Williams said.
According to the arrest warrants, Zasimovitch, who was 17 at the time, and an unidentified juvenile planned to rob Brown on Dec. 11, 2019. Armed with a .22 caliber rifle, Zasimovitch waited in the woods while the juvenile telephoned Brown to lure him out of a car where he was sitting with his aunt and uncle to a place where Zasimovitch could see him.
Williams said Zasimovitch shot Brown several times as he ran to warn his family members. Brown, 20, died in Williams' backyard.
"Every time I come out my door I'm going to remember my grandson on the ground," Williams said.
"For someone to be so young, you would think after the first shot he would fall back," Gibbs said. "He pursued him. He came and fired off more shots, completing the evil task. Making sure he was dead."
Williams said Zasimovitch also fired shots that struck the house of a neighbor who is a sheriff's deputy.
"If that had been a white cop with a Black young man doing the killing, believe me that would have also been attempted murder," said Marvin Neal, president of the Georgetown County chapter of the NAACP. "That would have been the charge. But we haven't seen that yet."
The day after the murder Zasimovitch and the juvenile, who was 15 at the time, were taken out of classrooms at Waccamaw High School and arrested. Zasimovitch was charged with armed robbery and murder. The sheriff's office has not released information about the juvenile.
According to the arrest warrants, Zasimovitch confessed to killing Brown because Brown had robbed and assaulted him hours before the shooting.
"His intention was to kill him and that's exactly what he did. He killed my grandson," Williams said. "There was no remorse."
In April, Williams spoke at a bond hearing for Zasimovitch and he was not released.
In October, Zasimovitch was released on a $65,000 surety bond. Williams said she tried to tell Judge Stephen John that she wouldn't feel safe if Zasimovitch was released, but John cut her off.
"I was in a trance, it hurt me," Williams said. "I couldn't function that whole day. I couldn't believe what the judge had just said."
Hazzard, a public defender, said there is more to the case than most people realize and the court was correct to grant bond.
"I think that Mr. Zasimovitch is obviously not a threat to flee a jurisdiction, his family is here and I don't think he is a threat to the community at large," Hazzard said. "There would actually not be any reason to maintain him in the detention center."
After Zasimovitch contacted Brown's younger brother on social media, the state requested that his bail be revoked. Judge Michael Nettles denied the request in December.
"He had not, in fact, violated the terms of his bond and I'm thinking that's why Judge Nettles ruled the way he did," Hazzard said.
Neal pointed out that Tysheem Walters III, an African-American man accused of killing a white father and stepdaughter after a traffic accident in August, remains in jail.
"It's not fair. You can't have Black law and white law," Neal said. "The law was designed by white people to keep Black people in their place. That has to change."
It is unclear when Zasimovitch will go to trial since Circuit Courts in the state are shut down because of the COVID-19 pandemic.
The family has started a fundraiser page, "Justice for Deondre (Klout Dre)," on gofundme.com to help Williams hire an attorney to represent her family's interests in court.
"There's no justice. I want justice to be served," Williams said. "It's not fair for my family. It's not fair for anyone to have to suffer and feel the pain that I feel and my family have to feel every day."