Murder victim's last thoughts were for family's safety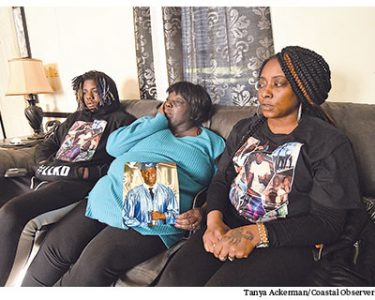 Carrie Williams holds her grandson Deondre Brown's photo while talking about his murder with his brother Kweli Edwards and mother Laverne Bethea.
Carrie Williams has three presents under her Christmas tree that won't be opened this year.
Her grandson Deondré Brown was shot and killed outside her home on Martin Luther King Road last week. The family hosted a candlelight vigil on Wednesday night and will gather to bury Brown today. He was 20.
"We want people to know about him, and his life," Williams said.
She and Brown were very close, and sometimes he lived with her.
"He just was such a good person," Williams said. "I used to say, 'you're your mom's son, but you're my baby boy,'"
Three Waccamaw High students have been charged in connection with Brown's death.
"They went to school the very next day like nothing happened," Williams said.
According to the Georgetown County Sheriff's Office, the three suspects planned to rob Brown.
He was in a car outside the house with his aunt when he got a phone call. Brown started arguing with the caller and got out of the car and walked toward the east side of the home.
Brown's uncle heard gunshots and saw muzzle flashes near the road.
"They were determined to kill my grandson," Williams said.
Brown then ran back to the home to tell his aunt and uncle to run to safety before dying.
"He ran with the bullets in him and told them to run," Williams said. "Where he got the power to run after being shot I do not know."
"He saved my life," said Charletta Bodger, Brown's aunt. "The last thing he said to me was 'Charletta run.' "
"He was just trying to protect the family," Williams said. "That's the type of person he was. Family always came first to him."
Aiden Zasimovitch, 17, was charged with Brown's murder and armed robbery. The arrest warrant said he admitted waiting in the woods with a .22 caliber rifle.
Colby Barnes, 18, was charged with strong-arm robbery and drug possession. A 15-year-old was also arrested on undisclosed charges.
Bodger keeps thinking that she had a nightmare and she'll wake up and find that Brown is still alive.
"It's so hard that he had to go like this, and that I had to see him go like this. I'll never be the same," she said. "Nobody deserves to die that way."
When the shooting occurred, Williams was in the house along with three other grandchildren. There are two bullet holes on the outside of the house near her bedroom.
"The officer told me, 'you're so lucky you were on that bed. God was with you that you didn't get shot too,' " Williams said.
Williams said Zasimovitch had visited her house and knew her grandchildren lived there.
"It's very scary because it could have been more deaths," she added.
Brown's family wants to make sure Zasimovitch doesn't walk free.
"I want all of them to get what they deserve," said Laverne Bethea, Brown's mother. "They planned it and they came [to] his home, where he lived."
"We want justice for him," Williams said. "They took a real important part of us away from us."
Brown grew up in Pawleys Island and attended public schools. After dropping out of Waccamaw High, he enrolled in Wil Lou Gray Opportunity School in Columbia in 2018.
"He asked to go there," Williams said. "He saw the thing on TV and he wanted to get away. He figured he couldn't finish school being around his friends."
It took Brown only three months to graduate from Wil Lou Gray.
"He was so far behind in schoolwork they thought it would take him six months," Williams said.
Brown then started taking business classes at Miller-Motte Technical College in Conway. Because he didn't have a driver's license, Williams would drive him to Conway. When her work schedule and her health no longer allowed it, Brown had to stop taking classes.
Brown survived a shooting almost two years ago to the day of his murder.
On Dec. 14, 2017, he was shot in the chest and wrist at a community boat landing in the Waverly neighborhood. Emergency medical workers who responded to the shooting found marijuana in Brown's pocket. A man with Brown that day was charged with possession with intent to distribute marijuana.
Williams said her grandson was trying to turn his life around.
"He was just a loving person. This boy would do anything for his family and friends," Williams said. "He would cheer people up. That's the type of person he was."
Since the murder, Williams has not been able to go into her backyard.
"I can't even go out my back door now. I don't know how I'm going to do it. I see him laying on the ground where he collapsed," Williams said. "I don't know how we're ever going to get over the pain that we felt that night."
She looked at the presents under her tree.
"Everything is taken away from us," she said. "The only thing we have now is memories and these memories are going to have to last us the rest of our lives."