Neighbors oppose plan for storage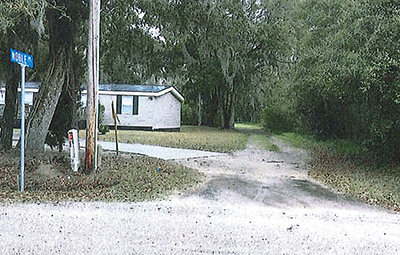 Access to the property is from an unimproved right-of-way that is the subject of a pending court case.
A request to rezone property in the Pawleys Island area to allow an open-storage facility has drawn objections from neighbors who say it is another example of commercial development threatening a traditionally Black residential community.
About 30 people attended a Georgetown County Planning Commission hearing on the rezoning, which led the applicant's attorney to seek a deferral.
Dan Stacy, who represents Dan Stuckey and 3D Land Holdings, told the commission he would meet with the neighbors to discuss their concerns.
"He's been trying to do it for two years. He's not going to do it," said Willis Johnson, one of the owners of an adjacent parcel on Coachman Drive.
Stuckey bought one of three lots on Noble Place, a private road off of Coachman, in April 2021 from Edward Dereef. Dereef had filed suit in September 2020 to confirm that he had a prescriptive easement over Noble Place. That case is still pending before the master-in-equity.
Stuckey wants the county to rezone his lot from residential to commercial to allow an open-storage facility.
"Commercial zoning changes in African American communities seem to be a trend," Cindy Person, a lawyer and executive director of Keep It Green Advocacy, told the commission in a letter. She represented another group of area residents who successfully opposed the expansion of the Midgard self-storage facility on Library Lane.
The Stuckey property is separated by one lot from a self-storage facility that was subject of a rezoning in 2012. That change from residential to commercial use was also opposed by the neighbors.
Claudia Grate was among them. She lives in Texas, but owns property in the area.
"Here again is another attempt at take-over and destruction of this small Black Community," she said in a letter to the commission.
Person, who represents the opponents to the current rezoning request, told the commission, "if the people who own boats and RVs do not want or are not permitted to store them in their own backyards because they are unsightly or an eyesore, what possible reason would make it acceptable to change zoning to store them in the backyards of this residential neighborhood?"
She also told the commission that she had found between 200 and 300 outdoor storage spaces available to rent in the area, raising doubt about the public benefit of adding another facility.
Person also represents Johnson and five other property owners in the suit to confirm the easement over Noble Place. Until last week, there was no attorney of record for the owners.
She has asked the master-in-equity, Joe Crosby, for a status conference in the case. The potential change in zoning could have an impact on that case, she said in a filing.
Person said the existing right-of-way was created when there was a single-family home on the lot now owned by Stuckey. The owner didn't have a car and the access was never improved.
"Even if there's a right-of-way that permits access to a residence, that does not imply that there's a road there for commercial use," Person said.
The commission agreed to the request for a deferral. The request will be on its agenda in April.