New chairman wants to unify council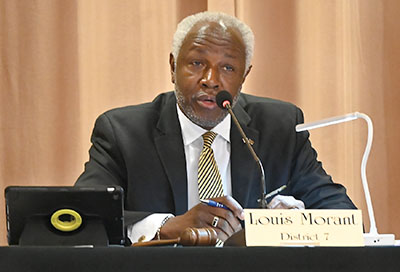 Louis Morant was elected chairman by acclamation this week.
Louis Morant turned 65 on Tuesday. He got a gavel for his birthday.
Midway through his first term on Georgetown County Council, Morant was elected chairman. It's the same position that his older brother, Johnny, held for 12 years.
Morant succeeds John Thomas, who said last week that he planned to run for a second two-year term as chairman since no one else had expressed interest.
But Morant said he had been approached by other council members to serve. "Things have changed slightly, I guess," he said.
He was elected in 2018 to the District 7 council seat, the one that his brother had held since 1993. The brothers were partners in a law practice in Georgetown until Johnny's death last year.
Thomas said he learned of Morant's interest after four members – Bob Anderson, Everett Carolina, Lillie Jean Johnson and Raymond Newton – were sworn in last week.
"I welcomed that because I knew that Louis would be a good chair," Thomas said. "Being chair is not something that I have had a craving for, even from the beginning."
Thomas was elected in a 4-2 vote with Carolina backing former Council Member Ron Charlton for chairman. This week, Thomas moved to have Morant elected by acclamation and Johnson re-elected vice chair.
"I didn't want to have a split council," Morant said. "I just wanted to find some way of unifying the council."
Council Member Steve Goggans said he heard talk late last year that "the chairmanship probably needed to move."
"I don't know how that conversation started," he added.
Goggans and Thomas have been on opposite sides of some issues, most recently a rezoning to allow 10 duplex units on property that had been designated for single-family use at the corner of Waverly and Kings River roads.
They also differed on the selection of a new county administrator, with Thomas, Johnson and Morant in the minority that supported Ray Funnye, the Public Services director, for the job.
"We've had some divisive moments in the last few years," Goggans said. "I have a lot of respect for John. He was occasionally thrust into some tough situations."
Some people may have thought it was a natural step for Morant to follow his brother to the chairman's seat.
"That's not completely the case," he said.
What he learned from Johnny was that the job takes a lot of time.
"He seems to have taken it in his stride. What I looked at initially in considering it is the amount of time Johnny was spending. Things have changed since that particular time. We have more telephonic, more virtual," he said. "It won't be as time consuming."
His office also happens to be down the street from the county courthouse.
In two years on council, "members seemed to get the impression that I'm the moderator in some respects," Morant said. "Maybe that's because of my background. I am a certified mediator in Family Court. They kind of look upon me as being able to bring the parties together. Whether that's going to bear true or not is another question."
But Morant will have an advantage over Thomas because District 7 is rarely the source of heated issues that come before the council.
Thomas said it wasn't easy to be an advocate for issues in District 1 and maintain a county-wide perspective.
"It's just a different perspective," Morant said. "Most of the things that come before the council do not affect the other part of the county most of the time. A lot of it is from the Waccamaw Neck. It gives the impression of not being biased in one way or another."
Beyond unifying the council, Morant said his top goal is to get more economic development in the rural areas of the county.
"The Waccamaw Neck is saying we have over-development," he said. "They're talking about density on the Waccamaw Neck. We're saying, 'Hey, bring some over here.' Let's try to balance the scales."
That meshes with the goals of Anderson, who returned to council this week six years after losing the District 6 seat to Goggans. He moved after that election and now represents District 2.
"My No. 1 reason for running was growth on the western side," Anderson said, adding that the county is only one devastating hurricane away from losing its major source of tax revenue.
District 2 includes the southern part of the Waccamaw Neck and an area south of Georgetown.
"We're going to focus on residential development," Anderson said. "Commercial development will follow."
For Thomas, who has said he doesn't plan to run for a third term in 2024, handing over the gavel means more time to focus on District 1.
"It's going to be a rough time for the county over the next two years," he said, referring to the budget impact of the coronavirus pandemic. "I can be more of an advocate for my constituents."