New class ready to join Athletics Hall of Fame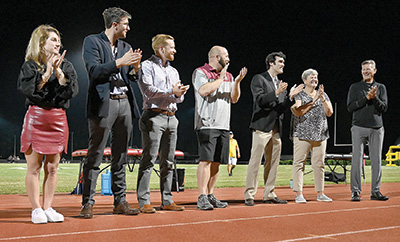 The first class of the WHS Athletic Hall of Fame takes a bow in 2021.
The second class of the Waccamaw High School Athletics Hall of Fame is chock full of state champions.
The athletes who will be inducted at a ceremony Friday are are: Addie Avant, Ashley Czechner, Willie Grady, Billy Kenny, Michael Moran, Andy Peace and Taylor Player. They will be joined by coach Frank Cegledy.
This year's hall of fame class also includes three members of the school's booster club: Duff Dawson, Calvin Gilmore and Gerry Harmon.
Avant and Czechner are the first softball players to be honored; Peace and Player are the first soccer players.
Finding out she was being honored put a "big smile" on Avant's face.
"I never heard that they were doing anything like that before," she said. "I felt a sense of accomplishment I guess."
As a pitcher on the softball team, Avant won 102 games and struck out 1,022 batters. At the time, she was one of only six high school pitchers in state history to win at least 100 games.
Avant graduated in 2008, two years before Czechner and the Warriors dominated Class 2A softball, going 34-1 and beating Crescent for the program's only state title. In the second game of the Lower State playoffs that year, Czechner pitched a perfect game and hit three home runs.
"It was honestly one of my favorite year, of playing softball," Czechner said. "I played softball for over a decade and that was one of the best times of my life."
In 2009 and 2010, the Warriors went 64-4 and won two Lower State titles to go along with the state title. Czechner was named the Class 2A softball player of the year in 2010.
Czechner, who graduated in 2010, is "super-excited" to be going into the Hall of Fame.
"The first class that went in were people that I knew and some people that I didn't know," she said. "They were the best athletes that I knew in high school. It's exciting to be a part of that."
On the same day the Waccamaw softball team was winning its state title, Player was leading the girls soccer team to the state title. From 2007 to 2010, Player and the other 11 members of the Class of 2010 won 71 of 79 games and outscored opponents 445-35.
Player was only the third Warrior to score more than 100 goals in soccer and was named the 2010 Class A-AA player of the year by the S.C. Coaches Association of Women's Sports.
Peace said he was "extremely humbled" when he heard he was going to be honored.
"It brought back some memories of my former coaches and it makes me also think of some of my teammates," Peace added. "I'm very fortunate that some of my closest friends to this day are people I played soccer with."
Waccamaw didn't have a stadium on campus when it first opened. The soccer and football teams played in an open field behind Waccamaw Elementary School.
"There was no scoreboard and most of the people that went to the games were either girlfriends or parents," Peace said. "I didn't like the field because it was part of a baseball field and it had clay on part of it and that stuff got hard as concrete."
The Warriors also played two games in the area behind the school where the softball field is now.
Peace also scored more than 100 soccer goals before graduating in 1995. He and his teammates and the late coach Rob Janes, who started the program, began a soccer legacy at the school that continues today.
Moran joins his older brother, Wesley, in the Hall of Fame.
"I'm just happy to be in there with him," Moran said. "It was such a thrill to be inducted with so many other great athletes. I feel honored to be in that same realm as them."
Moran won team tennis titles in 2007, 2008 and 2009 and a singles title in 2010. His singles title was the fifth in a row for the school, following Kenny in 2006, Wesley Moran in 2007 and 2008, and Kenny again in 2009.
Moran said the Waccamaw tennis program was great because the guys practiced against each other, which made them better.
"It really was a team effort," Moran said. "The only reason I got to where I am today was because of those people that I played with and against. They really made me better. All the credit ultimately goes to them, and the great coaching and the work our parents did making all of that happen."
Kenny agreed.
"We've always had great friends to practice with on a daily basis, which was the reason we were so successful," he said. "I think that's been the biggest part of Waccamaw's success in tennis,"
Kenny was also on the tennis teams that won titles in 2007, 2008 and 2009. He graduated in 2009.
Kenny only found out about the Hall of Fame last year after the first class was inducted.
"It's very exciting" to be inducted, he said.
Cegledy is the fourth coach in the Hall of Fame.
"It's an honor," he said. "It caught me off-guard a little bit."
His boys golf team won the school's first team state championship in 1999. The Warriors also won in 2000 and 2001, and Clark Truluck won the individual title in 2001.
"We had a good [team] there for a while when I was coaching," Cegledy said.
He coached football and basketball in Ohio, but when he moved to Pawleys Island he became Waccamaw's assistant golf coach and later head coach. He also helped start the school's girls golf team.
"I think it's a diverse class of team sports and individual sports," principal Adam George said.
Waccamaw High will host an induction ceremony for family and friends on Friday at 5:30 p.m.
The inductees will then be publicly honored at 7:15 p.m. on Warrior Field before the kickoff of Waccamaw-Andrews football game.