New contract extends administrator's term 5 years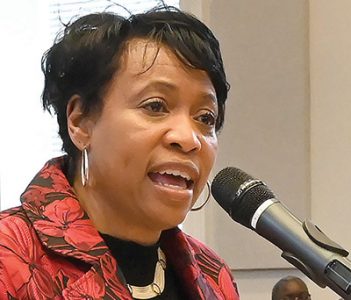 Angela Christian was hired in March 2020 with a three-year contract.
The county administrator will get a 5 percent raise and a five-year extension on her contract, starting today.
Angela Christian was hired March 30, 2020, at a base salary of $155,000, and annual cost of living increases on par with other employees.
Georgetown County Council voted unanimously this week to extend that contract after a closed-door executive session. There was no discussion.
Christian replaced Sel Hemingway, who had served as county administrator for 12 years. He was previously the chairman of County Council. Her hiring came after after the county conducted two searches for a replacement. She arrived in time to guide county government through the COVID-19 pandemic.
The next year, the county suffered a breach of its computer systems. Last year, Hurricane Ian made landfall on North Island. Those events have hardened Christian's resolve to deal with resiliency, she said.
"We are a hurricane away from a disaster," she said. "We have got to get things in place so we are resilient."
"Not only do we survive, we thrive," she added.
Christian said she was eager to continue. The pandemic restrictions on gatherings limited her early exposure to people in the county, but she has made up for that.
"It is such a privilege and a blessing to work for this community," she said. "I have very high hopes for what Georgetown could be."
She said she has come to respect the culture and heritage of the community, along with its environment.
"We have to work on the infrastucture. The people infrastructure, the job infrastructure" as well as the roads and utilities, she said.
While proud of what she's done, she said she didn't do it alone.
"I have a great team of folks that I work with every day," Christian said.