New fire chief starts in familiar surroundings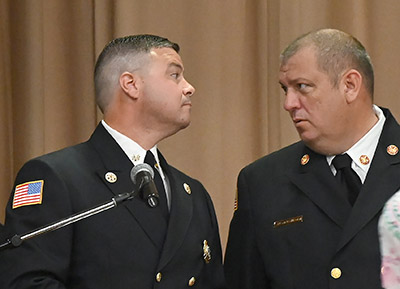 Brent McClellan, left, the new Midway chief, with Chief Jim Falkenhagen, the new chief of the county fire and EMS department.
A former member of Midway Fire and Rescue has returned to lead the department.
Brent McClellan took over as chief on Monday. He has served as the assistant fire chief for the Georgetown City department for the past six years.
"When the opportunity arose and it came before me, I prayed about it. I did a lot of praying about it," McClellan said. "I feel like it's an opportunity that God's provided for me and shown me that it's my turn to do it."
The buck will now stop with him.
"At the end of the day, your decisions affect so many people," McClellan said. "I take it beyond the fire department. The decisions the fire chief makes affects the citizens. The decisions the fire chief makes affect the visitors. There's just so many different levels now that you're responsible for."
But McClellan knows that a fire chief is never alone.
"That's why you have a good staff. That's why you have good people and you rely upon them," he said.
"I used to tell people, when I was on a fire truck, I might not have been the smartest person on that fire truck. I might not have been the best to do every operation of that truck, but I knew who was. That's the way I see it as a fire chief as well."
McClellan is a West Virginia native. He started his career as a volunteer firefighter in Lenore, W.Va. After a stint as a volunteer fire chief and becoming a paramedic, McClellan was hired at Midway in 2003.
He was a battalion chief with the department when he took the job as assistant fire chief with the city in 2016.
Working at a different department has given him a more informed perspective, McClellan said.
"It has broadened a lot of the areas that maybe I used to be focused on as a battalion chief," he added. "The city has been extremely good for me. I've had zero issues, no complaints with anybody that I've worked with and I've learned a whole, whole lot."
McClellan didn't start his career dreaming of being a chief.
"I always liked being at the battalion or assistant level. I've always said I'm fine right where I'm at. I don't need to be in the chief position," he said. "But it's like anything else.
When you get in and you get involved, the more you learn you – eventually you feel you're ready."
He's learned a lot while working in Georgetown about things he's never had to worry about before, like budgeting.
"It's been very eye-opening, and it's been a great experience for me," McClellan said.
According to McClellan, the biggest challenge facing the fire departments in Georgetown County is recruiting new firefighters and then keeping them from leaving for better paying jobs in nearby counties.
"I never thought I would say we have difficulty finding firefighters. When I was coming up and interested in this field, you would do anything to get just an interview. It's not that way anymore," McClellan said. "We've got to create an environment that people want to work in. … If we're not going to be able to compete salary-wise, or be able to compete benefit-wise, then what can we do, maybe non-monetarily, to make the job a little bit better? Are there duties that we can spread out? Are there response tactics that can change to maybe lighten a person's workload?"
One of McClellan's tools in the effort is recruiting locals who grew up in the county and still have family ties here.
"There's so many young folks in this area that don't know what they're going to do when they graduate," McClellan said. "I would love to see everyone go to college. I would love to see everyone find a good tech program, whichever side they choose. But there's some out there that's undecided."
McClellan is working with the county's high schools to connect with kids, especially athletes, before they graduate.
"This is a physically demanding job. Let's try to harness that local talent and put these young men and women to work in the fire department," McClellan said. "If they don't have a decision yet, if they don't know what they want, they need to come and talk to us. I think we have a ton of talent here that we can probably recruit and help encourage to stay if we were able to give them a job."
A second class of recruits has been training for months and is graduating on Friday. McClellan's best advice for those firefighters is never give up your zeal for the job, never stop learning and never stop growing.
"I'm an absolute, 100 percent, firm believer that this is the best job in the world," McClellan said. "Don't lose your passion. When somebody first starts, that's one of my first talks with them. Be in it for the right reasons and don't lose that passion. You say it so much that you want to help people that it almost sounds cliche, you wouldn't be here if you really didn't want to help people."
McClellan and his wife, Penny, live in Pawleys Retreat and are the parents of twins, Caleb and Calee.