New magistrate started work busing tables at Oliver's Lodge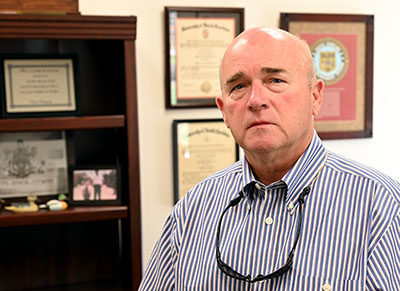 Kin McKenzie grew up in Florence, but spent summers at Murrells Inlet.
Kin McKenzie moved to Murrells Inlet about 10 years ago, but he grew up spending summers on the creek where his father built a house in 1960. "I've been coming here all my life," he said. "I bused tables summers at Oliver's Lodge."
He sat up late talking with Roosevelt Pickett, the creekman who worked at the lodge for 60 years. When McKenzie learned two years ago that Pickett, who was better known as Rooster, had died, he also found out there was no marker on Pickett's grave. After talking with the family, McKenzie bought one. "He was really special to me," he said.
McKenzie started work last week as the Murrells Inlet magistrate. He brings a knowledge of the community and the law, acquired over a 34-year career in law enforcement. The last 14 years were spent as a captain in charge of State Law Enforcement Division criminal investigations in the 12-county Pee Dee region.
McKenzie was appointed by the governor and confirmed this month by the Senate to replace John Benso. He was nominated by Sens. Stephen Goldfinch and Ronnie Sabb. Five of the six county magistrates are former law enforcement officers.
"I like law enforcement in magistrates," Goldfinch said. He hears complaints about bias against defendants in criminal cases, but doesn't see it. "Most of the ex-cops I know may go even farther for the defendant," he said.
McKenzie was one of several people short-listed for the position. Goldfinch also interviewed attorneys and other magistrates about potential candidates. McKenzie "lives in the right place. He has the right demeanor and temperament," Goldfinch said. "He's got the institutional knowledge."
McKenzie doesn't have a robe, but he conducted a half dozen bond hearings online last Friday. They went well although he wasn't sure how much he should say about the cases. "Some of them are pretty serious," McKenzie said. "I've got to acclimate, learn what to say and what to do, but I've seen a lot of it my entire career."
James Kinley McKenzie Jr. grew up in Florence. He was fascinated by stories told by his grandfather, Darvin Myers, about the Bingham murders in Florence in the early 20th century. His grandfather had been a deputy sheriff at the time. "He was part of digging up some of the Binghams' victims," McKenzie said.
He earned a bachelor's degree in criminal justice at the University of South Carolina. He did some security work, but ended up working seven years as a railroad engineer. His father spent 44 years with CSX and Amtrak. "I occasionally ran a train during my stint there, but I was the youngest man in seniority. I did not want to work on the railroad," McKenzie said.
His took a job as a cop in Florence. He stayed two years and went to work as a probation and parole officer. In 1990, he was hired as a special agent by SLED. He also earned a master's degree at USC and graduated from the FBI Academy.
"I don't think I really got what I wanted to do in life until I was about 34 years old and got on with SLED,"McKenzie said. "Persistence pays off."
He was turned down 14 times for promotions within the agency before he was named captain.
"I saw a lot of bad things, bad things that man can do to man," McKenzie said. "I was probably involved in a thousand or more homicides in my career. I've gotten up Christmas morning and driven to a scene 100 miles away from my home – I used to live in Florence –and seen one shot dead under the Christmas tree."
He loved the work. Two things kept him going back, he said. "Victims. I wanted to catch the bad guy. Service. I love people."
Serving as magistrate is a way to continue that service. "I'm not actually chasing people anymore. I think this is a service job, too," McKenzie said.
He worked with many magistrates during his career. The ones he respected most had "calm and common sense," he said. He never had any problems with magistrates.
"When I first started my career, there were some defense attorneys I didn't care for very much. And then, after a number of years, I realized that they've got a job to do, too, and we're kind of in the same boat together, the criminal justice system," McKenzie said. "I became very good friends with a lot of them."
People who come before him can expect to find a judge who wants to listen to both sides. "I want to hear what both sides have to say before I make a decision," he said. "You better have your facts straight and all, because I'm going to call it the way I see it."
While living in Murrells Inlet is a requirement, he will hear cases county-wide. The idea that magistrates only hear cases from their community is one whose time has passed.
"I understand magistrates are different. There's an expectation of knowing your magistrate," Goldfinch said. But as the volume of cases grows, and more cases are handled by magistrates rather than in Circuit Court, that isn't practical.
But Goldfinch, an attorney, said there is still a role for common sense. "Absolutely," he said. "It should be a people's court. People shouldn't have to hire an attorney to go to magistrate's court."
The new position is important to McKenzie and his wife, Vicki, who was an operating room nurse for 34 years. Her father was a magistrate in Sumter County about 50 years ago.
The couple have two grown children, a son in Florence and a daughter in Charlotte. Their son was an Eagle Scout, like McKenzie. They also have a year-old grandson.
Despite fond memories, there are some aspects of law enforcement he won't miss. For 27 years, he spent his Memorial Day weekend at the bike week in Myrtle Beach. "Twenty-seven years of bike weeks. I won't miss that part of it," McKenzie said. "I'm looking forward to some more sitting still as I grow older."