New Orleans to Murrells Inlet – A ride to remember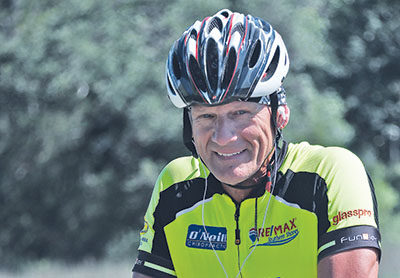 James Brown is riding from New Orleans to Murrells Inlet for the Ashley G Foundation fundraiser.
For James Brown it's another year, another ride.
The former Waccamaw High School teacher and coach left on his bicycle from Bourbon Street in New Orleans Thursday morning planning to pull into the parking lot at Uncle Tito's in Murrells Inlet 10 days later.
The 900-mile ride is the latest fundraiser by Brown for the Ashley G Foundation, named after Ashley Gaines, who played tennis for Brown at Waccamaw. Gaines was 18 when she died of diffuse large B-cell non-Hodgkin's lymphoma on June 18, 2008.
"It's hard to believe its been it's been 11 years," Brown said.
The foundation funds research into the disease that took Ashley's life, supports the families of pediatric cancer patients and offers college scholarships.
Brown chose New Orleans because his wife, Sonja, has family there.
"The distance is good and we thought it would be a good place to start," Brown said. "I'm always looking for an interesting place to start."
Brown will travel east through Mississippi, Alabama and Florida and then north along the coast of Georgia and South Carolina. He and his team of riders plan to average 85 miles a day. He expects to ride about six hours every day.
"It's so much fun when you travel through all these small towns," he said.
He used Google Maps for a suggested route that would take him through the Gulf Coast, which has been hit hard by storms in the past two decades, and where he has family.
"I'm interested to go by there to see how they've recouped," Brown said.
David Gaines, Ashley's father, also secured Brown a discount at Holiday Inn Express hotels, so that was incorporated into the route planning.
For the first 300 miles, Brown will be accompanied by three riders. One rider be replaced in Tallahassee, Fla. More riders will join up in Savannah and Charleston, and 11 with make the final push to Murrells Inlet with Brown.
About half the cyclists have never done an Ashley G Ride before. In January, Brown had them riding 50-60 miles a week and gradually increased the mileage as the months went on.
Last year, Brown moved the annual ride to September. He started in Key West, Fla., and ended 1,000 miles later in Murrells Inlet, bringing his seven-year cycling total for the foundation to more than 7,000 miles. The only year he didn't do an Ashley G ride was 2013 when his father was sick.
In all Brown has ridden in 19 states and raised $200,000 for the foundation.
Brown said he meets a lot of people that know Ashley because of the ride. His cousin in Kansas City is riding with him this year so people there now know about her.
"Every year it's something different," Brown said. "It's really grown."
Brown wants to celebrate his 60th birthday next year with another Pacific Ocean to Atlantic Ocean cross-country ride from San Francisco to Murrells Inlet. He expects it to take a minimum of about 50 days.
Sonja, however, still needs some convincing.
You can follow Brown's progress on Facebook at "The 2019 Ashley G Ride, Big Easy to the Inlet."
For more information on the foundation go to ashleygfoundation.com.