New superintendent will focus on 'core four'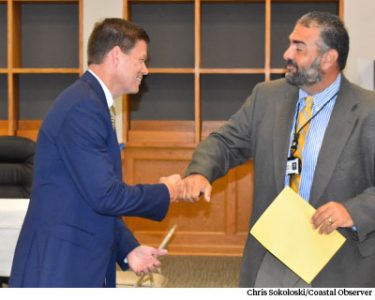 Keith Price is welcomed to the district by Michael Cavaris with a wrist bump.
The Georgetown County School District will have its first new superintendent since 2003 beginning July 1.
Keith Price was named superintendent last week. He was one of three finalists to replace Randy Dozier, who will retire June 30.
Price told the school board he is determined to "continue and grow the excellence" of the district while focusing on his "core four": learning, character, community and relationships.
"As we move forward and we focus our efforts on those four areas, Georgetown County will continue to succeed," Price said.
Price has been with the Richland 2 School District for 24 years, the last six as assistant superintendent. Before that he was a principal and assistant principal in Blythewood and Columbia.
He said change is always hard.
"Dr. Dozier has been a rock of steadiness and security for so long," Price said. "That's kind of scary for a lot of people."
Price is already working on an entry plan so he can "hit the ground learning" on July 1.
"That's going to mean I'm going to be meeting with lots of people, both in [the district office] as well as getting out into the community," Price said. "The big focus of my first year from day one on is going to be making those connections, hearing from everyone, getting everyone's input about crafting that vision for how we keep Georgetown on a trajectory of success."
Price will join a district still in the grips of the COVID-19 pandemic.
"This pandemic is forcing us to change in so many ways and the challenges are too many to name. That is why leadership is so very important to have in place and to maintain," school board Chairman Jim Dumm said. "Our children and our families are struggling and suffering more than ever and it is up to us to keep our educational ship safe and steady on these stormy seas. I believe [hiring Price] is going to help us maintain a steady ship going forward."
Price said the pandemic is unlike any situation anyone has ever seen.
"In your position as a leader, you're not going have all of the answers for every situation you are going to encounter," Price said. "I don't know if anyone has the right answers for these things right now. But if we remind everyone that everyone is committed to making the decisions that are in the best interests of all, we can get through this together."
Price was joined at the board meeting by his wife, Janet, and his daughters Micah, Camryn and Amanda. Price's fourth daughter, Lauren, had an online exam to take that afternoon and didn't travel to Georgetown.
"We can't wait to get started," Price said.
The vote by the board to hire Price was 5-2, with Arthur Lance Jr. and Randy Walker casting the dissenting votes.
Lance said his vote wasn't personal and promised to tell Price why he voted the way he did.
The hiring was overshadowed by the death of Board Member Richard Kerr before the meeting. He was elected to the District 6 seat in 2012. The District 5 seat on the board has been vacant since March when Elery Little died.