New vaccine supplies find eager arms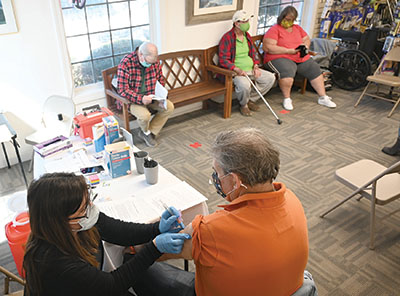 Peter Moran receives his vaccine from Toni Reed at Pawleys Island Pharmacy on Monday.
Patty Piatt has never met her 6-month-old grandson, Ryan, who lives in Florida.
All that will change now that Piatt got her COVID-19 vaccination at Pawleys Island Pharmacy on Wednesday morning.
"I wish it was a month ago," said Piatt, who became eligible to get the vaccine when the governor opened up Phase 1b to people as young as 55.
Piatt will make the trip from her Pawleys Island home to Florida on Saturday to meet Ryan, and reconnect with her 2-year-old granddaughter, Isabella, who she has only seen on FaceTime since the start of the pandemic.
"I know I won't be sleeping the night before," Piatt said.
The pharmacy received 300 doses of Johnson & Johnson's Janssen vaccine last week and started administering shots on Monday.
Glenn Cox, the owner of the pharmacy, said the amount of paperwork that comes with administering the vaccine is time consuming. There is paperwork before each shot is administered, and more paperwork at the end of the day.
"It's a learning experience," Cox said. "If it was just sticking a needle in the arm it wouldn't be so bad."
Forty people received the vaccine on Monday. Cox said without the paperwork, they could have easily administered 120 shots.
Cox expects to get another 300 doses next week, and already has nearly 400 people on a waiting list.
Pawleys Island Pharmacy was one of 100 independent pharmacies in the state that received the Janssen this week, according to the state Department of Health and Environmental Control.
Nick Davidson, DHEC's senior deputy for public health, expects demand for the vaccine to be "very high" for at least another week. He knows that there are still people in Phase 1a unable to get appointments.
"I know right now it can be a little frustrating," Davidson said.
DHEC announced Wednesday that it has loosened its restriction on visitation polices at nursing homes, assisted living facilities and residential care facilities.
Any facility that has not had a COVID-19 diagnosis among staff or residents for 14 days, that is located in a county with a 10 percent or less positivity rate and that has maintained COVID-19 infection prevention protocols is now required to allow visitors.
The policy change had to be approved by the federal government.
DHEC has a dashboard on its website that breaks down the information on who has been vaccinated.
As of Wednesday, 1.25 million doses have been administered in the state. Nearly 780,000 South Carolina residents have gotten their first dose of either the Pfizer or Moderna vaccines. More than 431,000 residents have gotten two doses.
In Georgetown County, 5,643 residents in the 29585 ZIP code have been vaccinated, 4,599 in 29440, and 387 in the 29576.
More than 6,000 cases of COVID-19 have been confirmed in the county since the start of the pandemic, including 73 in the last two weeks. Fifty-six percent of those infected were female.
Residents between the ages of 51-60 make up 16 percent of the cases, the highest of any age group.
Two students and eight staff members have currently tested positive, and 59 students and seven staff members are in quarantine, according to the dashboard on the Georgetown County School District website.
Since the district expanded in-person options for students on Feb. 1, the highest number of positive cases for students was 36 on Feb. 4, and the highest number for staff was 22 on Feb. 1. The highest number of students in quarantine was 205 on Feb. 10. The highest number of staff members in quarantine was 46 on Feb. 16.
To make an appointment to get the COVID-19 vaccine go to scdhec.gov/vaxlocator.
For people who are having trouble getting an appointment, DHEC advises calling its vaccination hotline at 866-365-8110. Operators can help with finding locations with appointments available.