Newcomers go behind the scenes before going up front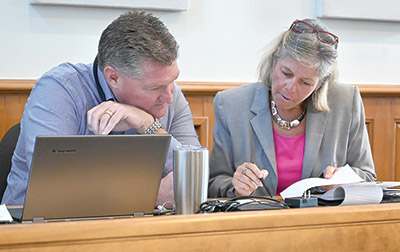 Clint Elliott and Stella Mercado study the agenda from the back of the council chambers.
The wood benches in the former courtroom that now serves as Georgetown County Council chambers don't encourage people to linger. Over the last year, Clint Elliott and Stella Mercado persevered.
Even when the two Waccamaw Neck Republicans learned this spring that they would be unopposed for seats on the council, they continued to attend the meetings. Elliott has also been a regular at Planning Commission meetings.
After filing closed, County Administrator Angela Christian asked them if they would like to start learning about county government from the inside.
"Meeting with the departments has been eye-opening," said Mercado, who will take over the District 6 seat now held by Steve Goggans. He is stepping down after two terms.
Elliott will represent District 1. That seat has been vacant since May, when John Thomas resigned and moved to North Carolina.
"I got to meet a bunch of really nice people," he said of the orientation sessions. He wanted to visit all the county offices, "the parts you don't get to see unless you work there."
Christian has done similar orientations in other places, but hasn't had the chance to do them here since taking the administrator's job in 2020.
"It was immersive," she said. "We started in August. We had the luxury of time."
Elliott and Mercado have never held public office. He is the director of the drinking water lab at the Grand Strand Water and Sewer Authority. She is a co-founder of the tech firm Mercom and sold her interest this year.
"The best part of what I've learned is how much the employees care about our county," Mercado said. "On top of that, how stretched-thin they are in every department."
Affordable housing and pay are significant obstacles to hiring and keeping employees, she found.
"In business, the biggest part of your competitive edge is your staff," Mercado added.
Going behind the scenes, Elliott found the biggest revelation was "how bad a shape a lot of the buildings are in."
The council has approved a plan to replace the jail at an estimated cost of $50 million. "That is in rough shape," Elliott said. "That's one we definitely need to address."
After the orientation sessions began, some of what he and Mercado saw from the audience at council meetings started to make sense. They also saw another problem that they will face starting in January.
"The biggest 'wow,' to be honest, has been the anger from citizens directed at staff that are just following the rules that are in place. That's disappointing," Mercado said. "The staff lives here. They care. They're doing a lot with a little."
Elliott said, "it's pretty hard biting your tongue when you know something's not true."
He noticed that Christian doesn't confront people about misinformation in public. "That's not her style. She doesn't want to embarrass anyone," he said.
Elliott wants to be included in any land use or stormwater issues that come in to the county, particularly in District 1, which includes most of Murrells Inlet. "Hopefully, I can take some of the load off and run point," he said. "I want to be as transparent as possible."
After a series of contentious votes on land-use issues – two of which triggered lawsuits – there is a growing expectation that two new council members will help tip the balance. Elliott said he has sensed that.
"Our biggest problem is not-in-my-back-yard. Every district agrees: Put it someplace else," he said.
Mercado recognizes that there is a need to encourage growth in the western parts of the county. But that also means the county needs to work with local, regional and state government. "I'm trying to figure out how we connect the dots and get all these bodies to work together," she said.
She also realizes that the county needs to complete the overdue update to its comprehensive plan, particularly the land-use element.
"First, we've got to decide what Georgetown County wants to be," Mercado said.
She and Elliott both talk about the need to balance the needs of their constituents with those of the county as a whole. They are willing to defer to their soon-to-be colleagues on district-level issues; up to a point.
"If I know it's not good for Georgetown County as a whole, I can't support it," Elliott said. "We're probably going to make a bunch of people mad really soon."
Despite that, Mercado said, "I'm, probably naively, excited."
"They're certainly going to be up to speed," Christian said. They both plan to be at this week's council meeting, the last one of the year.
"This will be my last one in the audience," Elliott said. "I can't hide anymore."