No monopawley on good ideas as classic game gets a local spin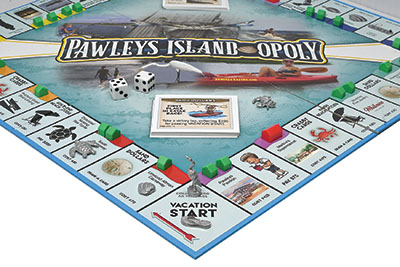 Among the penalty spaces is a $75 ticket from PIPD Chief Mike Fanning.
Here's a deal. You buy Myrtle Avenue for $170, put up four beach houses for $100 each, then sit back and collect $750 from everybody who stops by. And if you want to get fancy, another $100 will replace those houses with an inn and you can pocket $950.
It took 85 years, but Pawleys Island now has its own -opoly, the product of Ben and Molly Marlow.
The game of Monopoly that first appeared in 1935 has led to thousands of local spinoffs since a federal court ruling in 1983 that the name itself was generic. Ben Marlow had seen some of those. Six years ago, he thought there ought to be one for Pawleys Island.
"I wasn't able to let it go. It just made sense. People simply love the Pawleys Island area," he said.
Marlow has a day job as an investigator with the Georgetown County Sheriff's Office. He and Molly also run Pawleys Kayaks. While Ben who thought of the board game, he said that Molly "gets credit for it as well. She had to hear about it for six years."
Over that time, the concept kept changing.
Marlow first thought about selling sponsorships for each of the 40 spaces on the board. He even did a mock-up.
"It would have been a big tacky advertisement," he said, more like a tourist map than a game. "The exact opposite of what draws people back to Pawleys Island."
Marlow started over and reached out on social media for places and things that people associated with Pawleys Island. He had his own ideas, too. He grew up at Pawleys Island, where his family has lived for generations. His great-grandfather started Marlow's Store on Highway 17, which was then run by his great-uncle, Frank, who became the namesake of Frank's restaurant.
Where Monopoly has Chance and Community Chest cards, Pawleys Island-opoly has Sand Dollars and Crabby Cards. One of the latter reads "You got caught on the pier by security" and forces you to move back the number of spaces shown on the dice.
"Kids growing up at Pawleys in the '70s and '80s remember being run off of the pier as children," Marlow said. "I remember being run off the pier."
Atlantic Avenue, Myrtle Avenue and Springs Avenue make up one block of properties. The island's boat landings make up another. So do the two causeways. The high-end properties are Marlow's Supermarket ($375) and Pawleys Pavilion ($425).
Other blocks feature the Sea View Inn, Pelican Inn and Pawleys Island Chapel along with a range of island activities.
All the deeds have descriptive and historical information on the back, which can be read if they are flipped over to show that they are mortgaged. That was another way to make people feel they are part of Pawleys Island, Marlow said.
Three existing businesses got prime real estate on the board: Habaneros restaurant, the Pawleys Island Tavern and Whitmire's Fine Jewelry. They all represent local traditions, Marlow said.
Whitmire's also inspired one of the game tokens. His Pawleys Island Shell jewelry, cast from the imperial venus clam, was recast in zinc for Pawleys Island-opoly. The other tokens are a sea turtle, a crab, a heron, a bike and a flip-flop.
Marlow expects that the game will end up in beach rental houses, so he made up extra copies of the shell token. "They're probably going to be taken," he said.
Where Monopoly has four railroads and two utilities, Marlow's game has four beach accesses and the Gray Man and Alice.
He thought about using golf courses instead of railroads. But it was hard to decide which ones. The beach accesses "are distinctly Pawleys," he said.
Each beach access costs $250 and collects $25 in rent, but if you own all four it jumps to $200.
Players begin on the Start Vacation square. If they are unlucky, they are sent to Go Back to Work, where they stay until they roll doubles or pay $100. There is no Free Parking in Pawleys Island-opoly. There is Free Kayaking, however. There also is no Luxury Tax in the game. In its place, Police Chief Mike Fanning, in a caricature drawn by April Bensch, will write you a $75 ticket.
Marlow contacted a game manufacturer, Late for the Sky, early in the process. "There's a lot that is structured into the game, like the prices of the property," he said. That is a function of the amount of money that is printed.
While he enjoyed the process of tweaking the details, part of the reason for the delay was the need to hit the production deadline for either a summer or Christmas release. "It was easy to get side tracked," Marlow said.
This year, he called his sales rep at Late for the Sky and told her, "if I don't do it this year, don't respond to my phone calls."
Since the Pawleys Island shell token was unique to this game, that had to be made first. The rest of the process took three months. The finished games arrived at the start of December.
Early sales have been strong. "I think we will have enough games to satisfy at least most of the current interest," Marlow said.
The game costs $25 ($30 for credit card orders) and local delivery is free. There is a $10 charge for out-of-town shipping.
The game can be ordered at Pawleys Kayaks, 843-315-4567.