Nonprofit's pool awash with kids during summer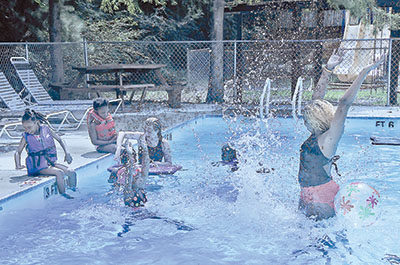 Kids from the Plantersville Summer Academy swim in the pool at Teach My People.
When the schools empty, the pool behind Teach My People fills up. As the area's closest thing to a public pool, it is used by kids in the nonprofit's summer program and by other groups.
"Swimming is not only a great recreation but I think it's vital that our kids know how to swim," said Eric Spatz, executive director of Teach My People. "With the ocean only one mile to our east and the river one mile to our west, I think swimming can be not only fun but vital to our kids safety. That's why we do not only free swim but lessons along with our free swim so our kids are taught how to swim and how to take care of ourselves in the water."
The JOY School program for special-needs children at Pawleys Island Presbyterian also uses the pool. Last week, children from the Plantersville Summer Academy jumped in, too.
"We open our pool up for our kids that are in our summer program who are registered with us," Spatz said. "But we also open it up to the village program, but they use our facilities in the afternoon under their own 5O1(c)(3). Then JOY school uses it under their 5O1(c)(3). So it's three separate units using the same pool but all underneath their own 5O1(c)(3) and all under their own liability insurance."
Teach My People has the pool from 9 a.m. to 1 p.m. The JOY School comes every Friday afternoon. The Village Group's Plantersville Summer Academy comes on Monday through Thursday at 3 p.m.
Two lifeguards are on duty along with instructors.
The 13 kids and their adult chaperones from the Village Group travel 45 minutes from Plantersville, passing the Georgetown YMCA, to use Teach My People's pool. This is the first year they have made the trip to Pawleys Island. They used to go to the Y.
"It's more of a private setting whereas in the YMCA, from what I've observed, is more open to everybody at one time and there's different levels," Laconda Myers, a chaperone, said. "But a lot of these kids have not mastered swimming comfortably by themselves or floating, and coming here pretty much caters more to their age group and their height."
Ray Funnye, founder of the Village Group, said the organization also wants to build ties with other nonprofits around the county.
The JOY School started coming to Teach My People to swim when the pool was built in 2004. The program previously took small groups of kids to private pools.
"As soon as there was a pool built back here, I was thinking about how I could get in that pool," Martha Insignares, director of the JOY School, said. "This is the first time we've had a pool where all of us could swim at the same time. The depth of the pool is just right for us and a lifeguard is here and it's just a great community pool."
Georgetown County has plans for a pool at the Parkersville Recreation Center. That and three other aquatic facilities around the county are on hold. The county says it can build the facilities, but they are too expensive to operate and maintain.
The county and the school district have considered a central aquatic facility, but nothing is in the works.
It costs Teach My People $10,000 for maintenance and chemicals to keep the pool going along with the cost of two lifeguards.
Three years ago, the nonprofit raised $20,000 on Palmetto Giving Day in order to resurface the pool.
"I think if we had a community pool, it would be utilized pretty heavily, especially if it wasn't just a pool to have fun but a pool that taught swimming lessons," Spatz said. "I'd love to see one where the rec center is in Parkersville around that area. I think we'd see a community really embrace that. We could teach kids swim lessons but, at the same time, it'd be nice to see swim teams."
"That'd be a dream come true," Insignares said of the idea of a public pool. "Not for just the JOY School children but for all the children in the community who'd want to swim in the summertime. I'd love that."
In the meantime, Teach My People is happy to share its facility.
"There's not a lot of larger pools in the area for larger groups to come and learn how to swim. We're just grateful for the opportunity to open our pool to the community and teach other kids how to swim," Spatz said.