Nostalgia flavors plans for former Town Hall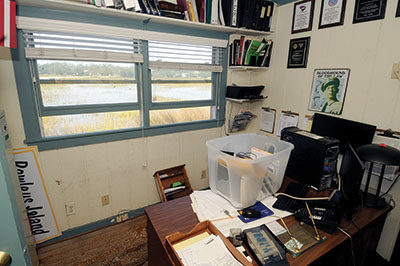 Water rose halfway to the windows of the building during Hurricane Matthew in 2016.
George Raftelis remembers King's Funland. "It was a gathering place for folks."
Elizabeth McNiel remembers Howdy's store where he brother worked in the summers. "It was a really a gathering spot."
Besty Altman remembers the Mikee's Ice Cream truck," which I loved, but they stopped that because of commercialism. That was sad."
Pawleys Island may get a taste of the old days when there were businesses as well as homes on the island as the town looks for new uses for its old Town Hall.
"We kind of lack a gather place," said Joe Miller, a member of a committee studying the town's options. His wife suggested an ice cream shop.
Other ideas include using the 600-square-foot building for historical displays, environmental education and a meeting space. The building was flooded by Hurricane Matthew in 2016. A new Town Hall opened last month just across the North Causeway from the old one, on a lot that was once home to the Wagon Wheel restaurant and bar.
"We could do ice cream and displays, too," said Altman, owner of Pawleys Island Realty. The building that became the core of the old Town Hall in 1988 was once used as an office for business renting beach houses that eventually became Pawleys Island Realty.
The town doesn't have any commercial zoning. Two inns on the island are grandfathered. The town does sell T-shirts for the Fourth of July parade, however.
Raftelis, a CPA whose firm specializes in public sector finance, chairs the committee. His parents built a house on the island's north end in the 1930s. He said along with finding a using and maintaining the appearance of the old Town Hall it will be important to make sure it pays for itself. The committee will survey residents and property owners for ideas and to build support for the final recommendation, which it hopes to have this spring.
The town is limited in its ability to improve the building without triggering compliance with federal flood regulations that require buildings to be elevated. Mayor Jimmy Braswell said raising the building 3 to 4 feet would do "a world of good" and likely remain below the federal threshold.
Braswell also pointed out that the Pawleys Island Beautification Committee, which McNiel chairs, is planning a renovation of the Nature Park adjacent to the new Town Hall. "This will be kind of a focal point for the island," he said.
Limited commercial activity run by the town and with a focus on kids shouldn't raise any concerns, committee members said.
"One of the beautiful things about Pawleys is that you kind of step back in time," said Toni Ricker, who lives on the north end.
"Everybody's saying they have fond memories of what it used to be," Altman said.
Braswell remembered Howdy's store on Atlantic Avenue, which was destroyed in Hurricane Hugo in 1989. "That was a destination for my kids when we first started coming here," he said. "We have nothing like that today."