Observer wins 10 state press awards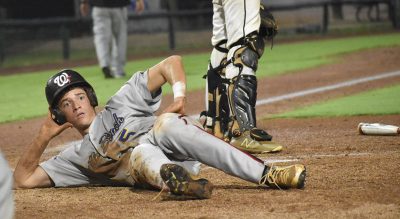 Will Brackett slides into home at the Seniors Last Swing game. The photo won an award for Sports Action.
Coastal Observer staff won 10 awards from the S.C. Press Association for their work in 2019 and 2020, including third place for General Excellence among the mid-sized weekly newspapers.
Awards were presented last week after the press association's annual meeting in March was postponed, then cancelled due to the coronavirus pandemic.
Chris Sokoloski won five awards for writing and photography.
Sokoloski won first place among the small and mid-sized papers for reporting about the arts. That included stories about the Bruce Munro light exhibit at Brookgreen Gardens, the history of the Winyah Auditorium in Georgetown and the of the Friends of the Waccamaw Library student poetry contest.
Those were "well written pieces to get more people interested in arts and culture and showcasing interesting events and people," the judge said.
Sokoloski won second place among all the weekly papers for Sports Beat Writing for stories on the Waccamaw High wrestling team's its first region title, a 24-hour softball tournament in Georgetown and Gia Leone setting the Waccamaw High cross country record.
Sokoloski won second place for Sports Feature Photo among medium and large papers for a photo of a Waccamaw High baseball player lying next to home plate after scoring a run.
A story by Sokoloski about three Waccamaw High students involved in the shooting death of a Pawleys Island man won second place for Breaking News category in the medium and large divisions combined.
Sokoloski won third place among the medium and large papers for Education Beat Reporting. That includes stories on principal Tim Carnahan leaving Waccamaw Intermediate School, Christie Weaver's art class at Waccamaw Intermediate and teachers who chose to work in the virtual program during the pandemic.
Charles Swenson won four awards for writing, photography and design.
Swenson won second place in Single Page Design among the mid-sized papers for the front page of the year in review issue on Dec. 26, 2019. It featured a drone photograph of renourishment work being done on Pawleys Island's beach.
Swenson also won two awards for photos he took of recreation department flag football games in November 2020. One placed second in the Humorous Photo category among the mid-sized papers. The other placed third in Sports Feature Photo among the medium and large papers.
Swenson also won third place in News Feature writing among the mid-sized papers for a story about a the effort by Murrells Inlet residents to turn 13 acres of county-owned property into a park.