One man's litter drive won't be a solo effort for long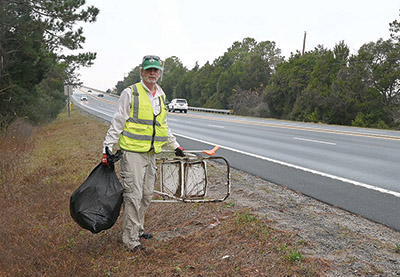 Tom Martin collects litter along Highway 17 near the Waccamaw River bridge.
With his family in Atlanta in quarantine over Christmas, Tom Martin stayed home at North Litchfield. He wasn't alone. He had 30 bags of roadside debris to keep him company.
"For me to work on Christmas morning, it's what I enjoy doing. I like service," Martin said. "Thinking about my place in this world is better for me than just watching football."
He was back at it over the New Year's weekend, picking up litter in the same area that particularly bothered him: the approaches to the Waccamaw and Pee Dee river bridges.
Martin, 64, is a reluctant poster child for anti-litter campaigning. He knows that people were at work on the problem long before he arrived in the fall of 2020. But his work has captured the attention of a citizens group and a county agency that have litter in their sights.
Georgetown County Council is due to receive a litter action plan next week from the Environmental Services division. Maureen Mulligan, the county environmentalist, said that plan includes an ambassador program that will help inspire community groups to organize litter cleanups.
"The idea is to get the word out that we would love to do something about the issue," Mulligan said. "I have been trying to get a handle on this litter problem. It's out of control."
One group that already got the word is Keep It Green, which has been most visible in land-use issues. The citizens group is working with Martin on a cleanup along Highway 17 from Prince George to the Waccamaw River bridge for Martin Luther King Day.
"Tom's goal and ours as well is to keep that up," said Duane Draper, a member of the Keep It Green board.
Draper also leads Inlet and Bay Stewards, a nonprofit that supports activities at the North Inlet-Winyah Bay National Estuarine Research Reserve. The reserve is part of the state's Adopt-A-Highway program and conducts cleanups along Highway 17 at Hobcaw Barony.
"We've never made it all the way down to the bridges," Draper said. "It's kind of ironic, one of the most pristine estuaries in the country and you've got this trash encroaching."
Bridges are common trouble spots for litter, Mulligan said.
"Sadly, when people see a bridge, they think that's an opportunity to get rid of the stuff in their car," she said.
Martin said he was on his way to the State of the County forum in Georgetown that was sponsored by the Chamber of Commerce last month when the volume of trash at the bridges struck him.
"I just zeroed in on that. Oh my god, it's awful. Such a pristine area," he said.
Martin retired from state government in New Hampshire. He was the state comptroller for seven years and also worked with the state departments of transportation and parks.
His wife died 11 years ago.
"I look at life a little bit differently, and I think about where I can go and what I can do and experience during the next 30 years," Martin said.
After retiring, he bought a camper and toured the national parks out west.
His parents had retired to the Isle of Palms in the late 1980s, so when he returned east, he started looking for homes along the Southeast coast. He bought a house in North Litchfield sight-unseen during the coronavirus pandemic.
"When I landed here, I thought, what can I do?" Martin recalled.
He and a friend in Massachusetts had picked up litter earlier in the pandemic. "What an easy thing to do during COVID, and a chance to give back to this community I was falling in love with," Martin said.
He started along Highway 17 at Huntington Beach State Park with some friends. His time with New Hampshire DOT was spent in the capital, not in the field, but Martin said he's comfortable working along the highway.
"You start seeing trash everywhere. I can't drive down the road without seeing trash," he said.
He worked from 7 to 11 a.m. on Christmas and the following day on the area between the Highway 17 bridges.
His goal is to find ways to work smarter and be more organized.
"But I get upset with it not being kept up as well as it could be," Martin added.
Mulligan feels the same way. Although a 2020 study by Keep America Beautiful showed roadside litter had declined 54 percent since 2009, that still left 50 billion pieces of trash to be collected.
Georgetown County fell behind when the pandemic forced it to stop letting jail inmates work on a litter crew, Mulligan said. The pandemic also scuttled plans for countywide litter cleanup in March 2020.
But 10 cleanups that got help from Environmental Services last year still managed to collect 15,000 pounds of litter.
Mulligan is excited about the prospect of cleanup on Highway 17 this month. "We're going to try to get that going," she said, and do it safely.