Online event helps fill fundraising gaps left by pandemic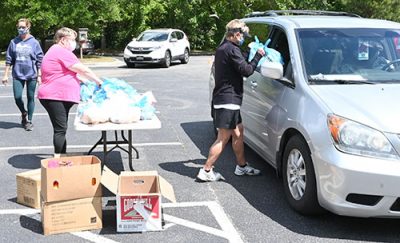 Volunteers at Teach My People hand out weekend Backpack Buddy meals.
Local nonprofits are hoping for an infusion of more than $1 million in donations this week.
The Frances P. Bunnelle Foundation is hosting its fourth annual Palmetto Giving Day starting at 12:01 a.m. Tuesday. The first three events raised nearly $3 million. The amount of money donated has increased every year.
"What we're trying to do with Palmetto Giving Day is to enlighten the nonprofits that we are no longer fishing in the same pond. The pond has become the Atlantic Ocean," said Geales Sands, executive director of the Bunnelle Foundation.
"You are only limited by yourselves. Social media reaches the entire world if you let it. But if you don't tell them about the good work that you're doing, they'll never know."
Sands said there was some discussion about postponing this year's event due to the pandemic.
"Because this was always planned to be an online event, we thought even if they don't raise as much money as they did last year, some money for them is better than no money," Sands said. "The generosity of our neighbors and people that we know who might not be our neighbors and live around the country can often astound us. So we didn't want to miss that opportunity."
Fifty-two nonprofits based in Georgetown County, or that serve county residents, are taking part in the event.
Teach My People in Pawleys Island, which provides after-school and summer educational programs for kids, was the top fundraiser last year, taking in $125,390 from 128 donors.
Executive director Eric Spatz is hoping for another successful year. He has already secured matches for up to $48,000.
"Some people are definitely strapped and want to think about other things right now. Which makes sense," Spatz said. "We're anxious to see what it's going to look like."
Even though schools are closed, Teach My People has continued to offer virtual tutoring
"We don't want to close shop," Spatz said. "Palmetto Giving Day is a great way for our community to support what we're doing now and also in the future."
Teach My People has also been giving out 120 meals every Friday at its Pawleys Island location, and at Cornerstone Baptist Church for its Georgetown students.
"That's worked out really nice," Spatz said.
St. Christopher's Children raised $25,000 last year on Palmetto Giving Day.
The nonprofit, which works with the public schools to provide clothing and orthodontic care for needy children, has secured matching funds of up to $10,000 this year.
"It's our biggest fundraiser of the year," said director Kathy Binney. "This year it's even more important because we've had to postpone or cancel some of our events."
About 40 percent of St. Christopher's annual budget comes from its resale store in the Litchfield Exchange, which has been closed for weeks due to the governor's restrictions on nonessential businesses.
Binney expects to see an increase in the number of children needing help in the next couple of months, similar to what happened during the recession of 2008.
At that time, St. Christopher's provided $150 worth of clothing to 100 more children than usual, a $15,000 increase in spending.
"We know we're going to get hit on the back end of this pretty rough," she said.
Palmetto Giving Day is also the largest fundraiser of the year for Miss Ruby's Kids, which works with parents to develop preschool children's language and literacy skills and get them ready for school.
"It makes the biggest impact for our finances," said Lisa Haas, executive director. "It's great for us. It's a lifesaver."
Last year Miss Ruby's Kids received $52,408 in donations on Palmetto Giving Day. That funded about a quarter of its programs
"That's huge for us," Haas said.
The Smith Medical Clinic, which provides medical care for low-income and uninsured residents, has an annual budget of $750,000. Nearly one-third of that is raised at a spring gala, which has been postponed this year until fall.
Executive director Anne Faul said Palmetto Giving Day is a chance for the clinic to increase its visibility.
"This year more people are spending more time on social media," Faul said. "An online campaign really is meeting people where we're are right now. That's a great opportunity for us."
Last year, the clinic raised nearly $62,000 on Palmetto Giving Day.
"I think it's because people like to support nonprofits and they love the idea of being able to double their impact through the matching funds that are available," Faul said.
This year Faul has secured $30,000 in matching funds.
Although the clinic is only seeing people with urgent needs in its office, the number of new patient requests has doubled in the past few weeks.
"We have had people who've never interacted with us or it's been years since we've seen them," Faul said.
Palmetto Giving Day will continue online until noon on Wednesday.
Only donations made at palmettogivingday.org during that time will be eligible to be matched.
The minimum donation was lowered to $10 this year in hopes of reaching a broader audience, Sands said.
Sands suggested that a donation on Palmetto Giving Day would make the perfect gift for Mother's Day, which is May 10.
The Bunnelle Foundation will be matching $1.50 for every $1 raised up to $7,500 for the majority of the nonprofits.
A list of nonprofits participating, plus some basic information about them, is available at palmettogivingday.org.