Opponents ramp up efforts as gas station seeks permits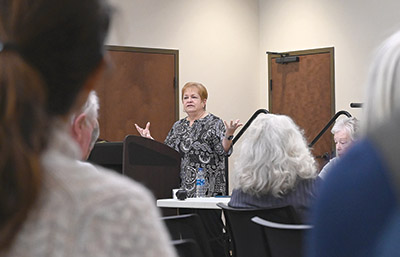 Jackie Harris, the Hidden Oaks HOA president, outlines plans for opposing the Royal Farms project.
Opposition from area residents to a convenience store and gas station on Highway 17 in the Litchfield area took on increased urgency with an application last week for state permits for the project.
Royal Farms, a Baltimore-based chain, plans a 5,154-square-foot store with 16 gas pumps on 2.8 acres at the corner of Ford Road. Residents in the Hidden Oaks neighborhood, which is adjacent to the site, learned of the project last fall when the engineer made a presentation to the homeowners association.
Neighbors raised concerns about traffic and stormwater runoff and started organizing.
"We have over 3,000 signatures on our petition," Jackie Harris, the HOA president, told an audience that packed into the Waccamaw Library over the weekend.
Opponents have contacted local and state officials and plan to request the state Department of Health and Environmental Control hold a public hearing on the project's stormwater permit. They have also hired a lawyer.
Because the property is already zoned "general commercial," which allows convenience stores and gas stations, the project will not come up for a public hearing by Georgetown County unless the company seeks a variance to the zoning regulations, said Holly Richardson, the county planning director.
Royal Farms has submitted a site plan for zoning approval, she said.
"There is still an opportunity for us to step in," said Tom Winslow, an attorney working with the opponents. "Today, you're driving past a wetland. Tomorrow, you'll be driving past gas pumps."
From the information Royal Farms has provided the state, "they're pretty far along," said Frank Pinizzotto, a civil engineer who lives in Litchfield Country Club. "I used to be in this business."
From his experience, "this is not the only site that was picked," he said. But it is probably the best one.
The location between Pawleys Island and Litchfield means there is sufficient traffic. The fact that Royal Farms estimates the store will generate 4,100 daily car trips doesn't mean it will produce more traffic.
"I'm not selling gas to people who are leaving town, I'm selling gas to people who are in town," Pinizzotto said.
Royal Farms did not respond to a request for comment about the project.
Pinizzotto suggested that the opponents find a way to tap into the names on their petition to create a survey to find out what people want in the area. That will make their argument stronger when talking with officials and agencies.
"You can't just say what you don't want," Pinizzotto said.
"We're not opposed to a business," Harris said. "I had a whole list."
The objection to the store and gas station, aside from its location next to wetlands, is the 24-7 operation, said Cathy Smith, a Hidden Oaks resident.
"The question is about what you want in your neighborhood," Winslow said. "Do you want someone operating at 3 a.m. when you're trying to sleep?"
Although the county may not hold a hearing, the state may.
"Public hearings are often scheduled for projects when 10 or more residents request so in writing, or if there are significant issues or sufficient public interest," said Laura Renwick, a public information officer for DHEC.
The agency is taking comments on the project through Sunday. The plans can be reviewed and comments made at epermweb.dhec.sc.gov.
Harris encouraged opponents to send letters to the company as well as officials.
"The CEO needs to know what's going on here. He probably does, but we're going to send all these letters to him," she said. "What we're hoping is, if we can be enough of a problem" Royal Farms will pick an alternate site.