Outcry over library delays approval of sales tax surplus plan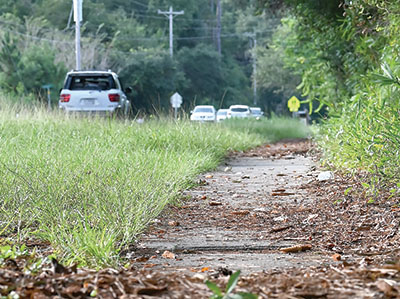 The plan includes $1.85 million to replace the sidewalk on Waverly Road with a bike path.
Work to complete the Bike the Neck path along Waverly Road and to install devices that give fire and rescue vehicles priority at traffic signals will be delayed at least a month while County Council members outside the Waccamaw Neck meet with constituents who are upset about capital improvement projects in their districts.
The council agreed in September to allocate $1 million of surplus revenue from a capital improvement sales tax to each of the seven council districts. Members turned in a list of projects in October so county staff could develop cost estimates. A list of 20 projects was adopted earlier this month and due for final approval this week.
But residents from neighborhoods west of the city of Georgetown pleaded with the council to defer action because they wanted the money in their district spent on recreation and drainage projects. Council Member Lillie Jean Johnson, who represents District 4, earmarked the money to a renovation and expansion of the Georgetown Library.
Teddy Wilson, a Sampit resident, asked for time to meet with District 3 Council Member Everett Carolina about his proposal to spend $335,000 on tennis courts in the local park.
Wesley Gibson, a leader of Citizens for Progress, said residents in the Big Dam Swamp neighborhood in the northwestern corner of the county were excited about the idea that $650,000 would be spent on a center for senior citizens. Then they found out the project was a recycling center in Council District 5.
"Is this a positive, impactful project in the community? They don't think so," Gibson said.
The money comes from a 1-cent sales tax approved by voters in 2014. It was estimated to raise $28.2 million for a list of projects, including dredging at Murrells Inlet, road improvements and rural fire stations. Over the four years that the tax was collected, it brought in an extra $12.5 million, and $6 million designated to help dredge the shipping channel through Winyah Bay was not spent because the overall project proved to be too expensive.
After setting aside funds for any future projects at the port of Georgetown, the county was left with about $10 million.
Council Member John Thomas designated the District 1 funds to install the Opticom system of traffic signal controls for emergency vehicles. It was a project initiated by a group of area residents several years ago. It will give fire and rescue vehicles priority at the signals and reduce their response times.
Council Member Steve Goggans in District 6 teamed up with former Council Member Ron Charlton in District 2 to designate $1.85 million to replace the sidewalk on Waverly Road with a multi-use path between Highway 17 and Waccamaw Elementary School. It will complete the Bike the Neck route from Pawleys Island through Murrells Inlet. Charlton, who lost his re-election bid to Bob Anderson, also designated $200,000 to upgrade the fire station at DeBordieu.
Anderson said he supports the district projects because the county retained funds for economic development outside the Waccamaw Neck.
District 4 residents told the council they didn't see the expansion of the main library branch as a needed improvement. "Would you give money to the library if you lived in a community where there was flooding after every rain?" Janet Reown asked the council, which met virtually.
Others focused their attention on Johnson, whose image didn't appear on the screen, with Terry Reed saying she was right to hide her face. "We lack the basic attention so many communities in this county have been afforded," he said.
That prompted Council Chairman Louis Morant to remind the speakers, who had appeared in person at the podium in Howard Auditorium, of the council's rules on public comment. "Let us not personalize our comments," he said. "We do want you to talk about the issues."
Dedric Bonds carried a basket of rubber boots to the podium. "These boots represent my family," he said, and are used because their yard floods. "How would any of you feel walking in these boots?"
"Your concerns have been heard," Carolina said, moving to defer final approval of the projects. "This will allow us to connect with our constituents."
Johnson provided the second. The vote was unanimous.
But Goggans noted, "I do think we would like to move other parts of the program forward." He asked for a timetable.
Morant said he hoped final approval could come in the next month.
Johnson said the only delay would be coordinating a constituent meeting with the state Department of Transportation and the county Public Services department. Administrator Angela Christian said she would help facilitate that. "We will move as quickly as possible," Christian said.
The council also heard an appeal from Andrews Mayor Frank McClary for $2.7 million to fund construction of a municipal complex. He said the town was included in the 2014 sale tax referendum and that state law requires projects to be funded "to the maximum cost" before the surplus is spent.
"Somehow Andrews has not been in the discussion," McClary said.
The referendum included $1.5 million for a police and fire station. The county increased the allocation to $3 million after agreeing that the initial cost estimate was low.
Last year, McClary told the county he had a plan for a $5.7 million "municipal complex" and asked for more money.
Instead of "fulfilling the initial obligation of the sales tax, we think it's more important to provide $1.8 million to some kind of multi-modal path in Waverly Mills," McClary said, referring to the bike path. "I don't understand that."
But the members of the Andrews volunteer fire department told County Council in January that police and fire would occupy less than half of the building that was proposed in the 2014 referendum.
Council then voted to move forward with the surplus spending plan after meeting with the interim county attorney, who told them that it complied with state law.