Owner withdraws rezoning request for storage facility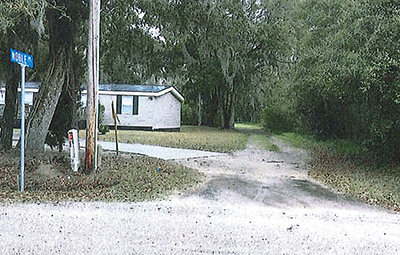 Access to the property is from an unimproved right-of-way that is the subject of a pending court case.
A request to rezone property in Parkersville for an outdoor storage facility will be withdrawn.
3D Land Holdings asked to change the zoning on a 1.7-acre lot from "general residential" to "general commercial" on an undeveloped street west of Highway 17. About 30 people showed up at the Georgetown County Planning Commission meeting last month to oppose the request. It was deferred.
This week, Dan Stacy, attorney for 3D, said he has asked to withdraw the request.
"It's still usable like it is," Stacy said of the residential lot. He added that he wanted to avoid a fight over the rezoning.
The property is also the subject of a suit in Circuit Court to confirm an easement that would provide access to the lot, one of three on Noble Place that were platted in the 1950s. 3D acquired its lot from Edward Dereef, who started the legal proceedings in 2020.
3D obtained a default judgment. The owners of the other lots only became aware of the judgment after the rezoning application was filed, according to court documents.
The other owners are represented by Cindy Person, chief counsel of Keep It Green Advocacy, who also represented the opponents of the rezoning request.
Person has asked Joe Crosby, the county master-in-equity, to set aside the default judgment. She said the withdrawal of the rezoning request doesn't alter her clients' position on the easement.
Area residents said the request threatened a traditionally African-American neighborhood with commercial development. Many had also opposed a 2012 rezoning that led to development of an indoor storage facility in the same area.
"We're delighted," Person said of the decision to withdraw the current request. Having residents show up for the Planning Commission hearing "certainly made a difference. I think the community realizes that."
Residents made the same arguments in 2012 when 3.1 acres fronting on Highway 17 were rezoned "general commercial." The Planning Commission recommended against the change 5-0. County Council approved it 4-3.
Last month, the owner of the Mega Storage facility filed plans with the state Office of Ocean and Coastal Resource Management to add 31,200 square feet of storage space. It will occupy land now used for outdoor storage.