Owner's hopes dashed again in effort to get sailboat afloat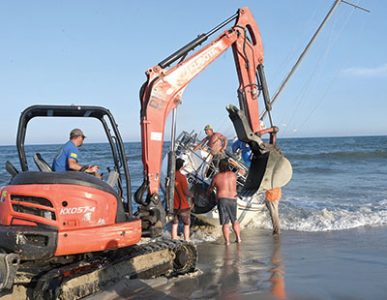 A trackhoe pushes the Grundoon into the rising tide on Monday.
A collective sigh rose from the crowd like the last breath of the evening breeze when the mast fell across the rolling deck.
Joshua Powers, owner of the 30-foot sailboat Grundoon, has tasted failure before. The boat ran aground on Litchfield Beach before dawn on Memorial Day when Powers anchored offshore. He swam to the Litchfield Inn and returned to the boat for the night. The surf kicked up and the anchor line broke.
The boat, a Catalina, has a draft of 5-1/2 feet. It has over 2 tons of ballast. A towing company quoted Powers a price of $5,000 to move the Grundoon.
Powers waited until the spring tide that arrived with the full moon earlier this month. A small front end loader helped maneuver the boat toward the surf.
Two boats tried to tow the Grundoon off the beach. The tow line snapped when a small boat made the first attempt.
A shrimp boat, the Lila Lee, tried the next night. The tow line wasn't firmly attached to the sailboat. The Lila Lee returned to Murrells Inlet alone.
This week, D&W Sitework, brought a small trackhoe to the beach to dig out the sand around the Grundoon and pull and push the boat over the beach toward deeper water.
"We are making one of the best attempts we've made," Powers said, two hours before Monday's high tide. "We've already moved this boat today over 40 feet toward the ocean."
His brother, Andrew, an engineer with the Hershey company, came from Pennsylvania to help. Andrew took a 90-pound anchor attached to 20 feet of chain and swam it out past the breakers on a surfboard.
As the trackhoe pushed, Powers and Joseph Dickinson of D&W sat in the cockpit of the Grundoon keeping tension on the anchor line, which was attached to a winch.
But the mast had been damaged by the pulling. The wire rope shrouds that should have held it upright were slack. As the tide rose, the boat rocked in the surf. The shrouds broke and the mast came down.
Powers is now talking with another tow service about moving the boat, with the mast secured on the deck railings. That could happen any day, he said,
The next spring tide isn't until July 3, but Powers is optimistic.