Palmetto Giving Day New record set for Palmetto Giving Day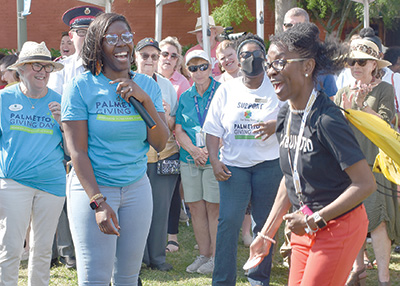 Yolanda McCray of Black River United Way, right, said she "had a blast" playing Plinko.
Officials at nonprofits that serve Georgetown County residents woke up this morning with a little bit more money to do good work.
More than $2.83 million was raised this week during Palmetto Giving Day, a 36-hour fundraising extravaganza started five years ago by the Frances P. Bunnelle Foundation.
Not only did this year's event set a record for money raised, but also for the number of nonprofits (62), the number of donations (6,165) and the number of nonprofits to receive $100,000 or more in donations (11). Only six organizations topped $100,000 last year.
It was also the first year any nonprofit raised more than $200,000. SOS Care, Teach My People and Helping Hands of Georgetown County topped that mark in the last hour of the event on Wednesday.
Others raising more than $100,000 were: The Village Group, Miss Ruby's Kids, Friendship Place, Martha's House, Smith Medical Clinic, Freedom Readers, Family Justice Center of Georgetown and Horry Counties, and Mingo Creek Academy.
Ray Funnye was doubly happy about the success of this year's event. Not only is he founder and executive director of The Village Group, he is also a member of the Bunnelle board.
"To see this community coming together on this special occasion and doing something very positive for our community, it really fills my heart," Funnye said. "We together can make great things happen. The key word is together. That's the most important thing; that we are together."
Palmetto Giving Day has become the biggest fundraiser of the year for the Family Justice Center.
"It's always so much fun. If you're very competitive, like I am, it's great to watch the leader board," Kim Parsons, executive director, said. "But it's not only important for us, it's important for every nonprofit in Georgetown County. … We love Palmetto Giving Day because it's just a fun 36 hours and it really shows the support that all the nonprofits have in Georgetown County."
The generosity started quickly.
Palmetto Giving Day started at 6 a.m. Tuesday. By 9:30 a.m., donations topped $500,000. By 2:15 that afternoon, the total passed $1 million.
With three hours and 45 minutes left, donations passed last year's record of $2.1 million.
St. Frances Animal Center, which had the second most donations last year, led this year's pack with 324. SOS Care was second with 319, followed by Helping Hands 317, Freedom Readers 279, and The Village Group 279.
Back by popular demand this year was an in-person event on Front Street in Georgetown on Tuesday night. In-person events were canceled the last two years because of the COVID-19 pandemic.
Representatives from the nonprofits got a chance to talk with potential donors and each other, pass out thank you gifts, including snacks, and earn extra cash by playing a game of Plinko from the "Price is Right" television show.
Parsons won $1,000 for the Family Justice Center during her turn at the Plinko board.
"This is great. This is wonderful," Parsons said. "This is a really good way to bring everybody together."
"Just to be at this place today is so powerful," Funnye said. "We have people smiling and we have people gathering together for a happy occasion."
In its first five years, Palmetto Giving Day has raised nearly $10 million for nonprofits that operate in Georgetown County and the amount of donations has grown steadily: $676,000 in 2017, $1.1. million in 2018, $1.2 million in 2019, $1.7 million in 2020 and $2.1 million in 2021.
This year's results for each of the nonprofits is available online at palmettogivingday.org.