Pandemic also poses threats to mental health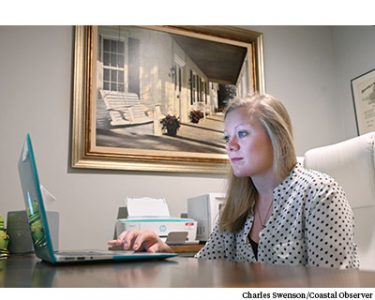 Skylar Helper now conducts counseling session electronically.
The uncertainty of the COVID-19 pandemic has people on edge and is causing a lot of stress and anxiety.
"Life has definitely changed, that's for sure," said Skylar Hepler, a Pawleys Island-based counselor. "My hope is that people don't let the importance of mental health fall to the bottom of their priority list."
"Without health there is no mental health," said Kelly Troyer, the outreach coordinator for the National Alliance on Mental Illness in the Charleston area. "But mental health is invisible most of the time. It's not really regarded the same way in society as someone with a physical [ailment]."
Hepler and Troyer are continuing to work with patients during the COVID-19 crisis, although social distancing means work is done by phone and video chats.
"We're grassroots and we're on the ground, but we can't be on the ground in the same way," Troyer said. "It's definitely posing a problem with people who need mental health services."
Hepler said some people are not comfortable with video chats. Some don't have internet access or don't have a private space at home where they can talk to a counselor.
"I think it's super helpful to be able to see one another, but it's more important to be a little uncomfortable than to just cut it off completely," she added.
Troyer is also using video chats for individuals and to keep support groups going. She said NAMI has seen an increase in patients since the coronavirus pandemic started. Many have never had mental health issues and are struggling to cope.
"They don't have the skills that some of us have who have been struggling with issues like OCD or anxiety or depression our whole lives," Troyer said.
An upside to the crisis, Troyer said, is that it's making people more empathetic.
"The general population is getting an idea of what it's like to have a chronic mental health condition." Troyer said. "You live with anxiety every day. You can't stop your brain. That's why there's medication. That's why you go to the doctor. That's why you go to therapy."
Hepler said people need to listen to what their body is telling them. If they're stressed and exhausted, they should spend a day relaxing and watching television. If they've spent several days doing nothing but watching television, they should set goals for things they want to accomplish for a few days.
"Trying to focus on things that you can control is probably one of the most helpful things that you can do right now," she added.
The Georgetown Country School District has been focused on mental health issues for the past year and that did not stop when schools were closed.
The district has counselors who work with students at nine schools, including Waccamaw High, as part of its rehabilitative behavior health services program.
Mike Caviris, director of special services, said counselors have continued therapy sessions with students through phone calls, text messages and in some cases, video chats.
"We're trying to provide those services continuously," Caviris said. "Education is important, but the mental health and safety of our parents and our students is probably the most important thing right now."
Students who were not involved in the behavioral program but are now in crisis are being referred to the Waccamaw Center for Mental Health, Caviris added.
Administrators at individuals schools are also keeping in contact with their staff to make sure they are healthy.
Hepler said parents should not be afraid to get help for their kids. It is not a sign of weakness
"Asking people for help for your own children doesn't say anything negative about you as a parent. It doesn't say that you're not a good parent or that you're a weak parent," Hepler said. "It's actually the opposite. You're valuing your kids' mental health and happiness enough that you want to get as much help as you can get."
Mental health tips
• If quarantined at home, spend time in different rooms or outside.
• Don't spend all day in your pajamas just because you're not leaving home.
• Stay in touch with friends and family. Write letters. Help neighbors who can't get out.
• Connect with a support group online.
• Limit time on social media.
• Get your "facts" from reliable sources.
• Keep a journal. Write something positive daily.
• Create a quarantine bucket list, especially for kids.
• If quarantined with a group, make sure each person has time alone each day.
• Be kind.
Where to get help
• Substance Abuse and Mental Health Services Administration hotline: 800-985-5990.
• National Suicide Prevention Lifeline: 800-273-8255.
• National Alliance on Mental Illness: Text 741-741. Counselors are available 24 hours a day.
• S.C. Department of Mental Health: scdmh.net.