Parking fee plan draws objection from Town Council member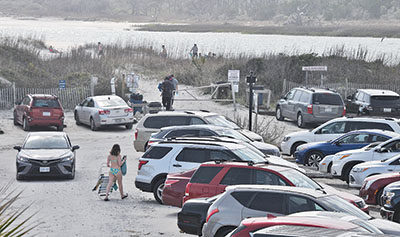 A $2 an hour parking fee is estimated to generate about $200,000 a year for the town.
A proposed parking fee at beach accesses on Pawleys Island drew a blunt rebuke from a Town Council member last week. The town has been working to close a gap in its operating budget and raise money for long-term beach nourishment. After checking into a variety of revenue-raising options an ad hoc committee was left with a parking fee estimated to raise about $200,000 a year.
"Most of my life I didn't have property on this island, but it's always been my island," Council Member Guerry Green said. "People that love Pawleys Island and people that have been here for generations are going to pay $2 an hour?"
Josh Ricker, a resident who chairs the committee, came up with the proposal to install ticket dispensers at 10 places on the island. Police would be able to monitor expired tickets electronically. "It's not obtrusive," he said.
The plan had earlier drawn criticism that it included roadside parking where the town does not own the right of way. The state owns the roads and in some places the pavement crosses private property.
The people who would pay the parking fee, "through their taxes, pay for that road like you do," Green said. "I owe a debt of gratitude to the people on Waccamaw Neck and the whole county."
"It's two bucks an hour," Ricker said.
Green said the money it would generate wouldn't cover the cost of beach renourishment that the town has committed to for the next 50 years as part of a project with the Army Corps of Engineers that is due to start in the fall. "We're not talking about cents, we're talking about dollars," he said.
Green pressed the town to cut costs in its operations to eliminate or reduce an estimated $110,000 annual shortfall. The town doesn't have a property tax. Most of its revenue comes from state and local taxes on short-term rentals. While Green said he doesn't favor a property tax for operations, he would support an assessment dedicated to a beach fund. "We need that beach," he said.
Harry Oxner said he was concerned that the committee's efforts were leading up to a property tax. But he agreed with Green that an assessment for the beach would be more acceptable than a property tax.
Former Mayor Bill Otis told the committee that the town doesn't have the ability to create an assessment the way the property owners association at DeBordieu did to fund beach nourishment. "You can't do things that way in a municipality," he said.
"A property tax has no overhead. It simply gets added on by Georgetown County," Leda Hall said. While she agreed with Green that people outside the town pay for town services "in a very generic sense," she said, "I don't have a problem saying to people … everybody's got to chip in" for renourishment since the town lets them use the beach.
"We don't let them use the beach," Green said. "It's their beach."
"There may not be a beach" without ongoing renourishment, said Keith McLoughlin, who has a house on the island's narrow south end. He didn't object to an assessment, but said a parking fee could reduce the amount that property owners would have to pay.
Based on current property values, a tax that would cover the $600,000 the town estimates it needs annually for a beach fund would cost owners $300 to $400, committee member said.
The committee ruled out several other options. Franchise fees for utilities are already in place and set by state law. Golf cart fees at $10 are already twice what the state charges and would occupy staff time for little return. Vendor permits would require that the town adopt a business license, which would fall on those who rent their houses as well as businesses off the island. The accommodations taxes are fixed by state law.
In order to impose a property tax, the town would need approval from the state legislature. A bill that passed the Senate would allow towns without a tax to adopt one sufficient to raise a third of its general fund expenses. The bill is now in committee in the House. Otis told the finance committee he expects it to pass.
In cutting costs for the town's general fund, the committee focused attention on the police department, which accounts for almost half of its $991,000 in operating costs.
Town Council this year reduced the number of full-time officers from five to four. The town has also asked Georgetown County to help fund the cost of a part-time officer to control traffic at the county-owned parking lot on the south end.
"I've heard people say we have too much police," Green said, adding that eliminating coverage of the county parking lot would mean the town could eliminate one of its three police vehicles.
Sumter Moore said it was hard to quantify, but in his experience as a state wildlife officer marked police cars are a deterrent to crime.
McLoughlin suggested the town consider what a police department would cost if started from scratch. He said he didn't think he was qualified to do that, but offered to gather information.
Otis said the town "should manage by budget" when it comes to policing. "Everything has a cost, so are we doing too much?"
He also passed out copies of the town's mission statement, which is to "preserve and protect" a heritage of "history, gentleness and tranquility."
"Obviously I wouldn't be too much in favor of changing it," Otis said.
"It depends on how you define heritage," Oxner said.
"It is what it is," Otis said.